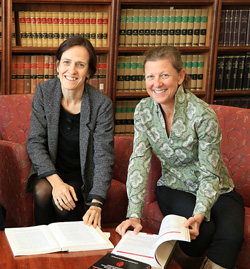 May is Domestic and Family Violence Prevention month. At the TC Beirne School of Law, researchers are making an important contribution to community education, policy implementation and law reform:
Using law and ending domestic violence: Women's voices 
Professor Heather Douglas was last year awarded a highly prestigious ARC Future Fellowship to undertake a longitudinal study examining how women of diverse backgrounds use law to help them live a life free of violence. Her project is investigating the impact of the type of legal intervention chosen to identify any unintended consequences.   She is also investigating factors that contribute to women's satisfaction and sense of safety resulting from legal interventions over time.  This research is funded by the Australian Research Council's Future Fellowship scheme (project number FT140100796).
National Domestic Violence Benchbook
Professor Heather Douglas has also been engaged to develop a National Family Violence benchbook in partnership with the Australasian Institute of Judicial Administration. Benchbooks exist in many Australian jurisdictions but are generally focused on state legal responses. The National Family Violence Benchbook will assist judicial officers, solicitors and barristers as well as key stakeholders such as the Family Court of Australia; Federal CircuitCourt, Australian Institute of Criminology, Department of Social Services, state and territory attorneys-general departments.
Further information:
National Domestic Violence Benchbook
A matter of life and death
A report recently tabled to Queensland Parliament on a bill that seeks to make non-lethal strangulation in domestic violence situations a crime was the direct result of UQ research.
Professor Heather Douglas worked with UQ School of Social Science's Dr Robin Fitzgerald on the paper Strangulation, Domestic Violence and the Legal Response which highlighted non-lethal strangulation as a red flag for future abuse and fatality.
Read more: http://mobile.abc.net.au/news/2016-03-08/non-lethal-strangulation-red-flag-for-domestic-violence-homicide/7223564
Domestic Violence and the Law Program 
The Pro Bono Centre's Domestic Violence and the Law Program introduces high school students to the legal understanding and response to family and domestic violence, including in dating relationships. The lessons provide information about the different forms of domestic and family violence and who may be particularly vulnerable in our communities.
Through the Pro Bono Centre, TC Beirne School of Law students volunteer their legal skills to assist domestic violence agencies in the greater Brisbane region, including the Domestic Violence Action Centre in Ipswich, WAVSS (Working Against Violence Support Service) based in Logan, and the Immigrant Women's Support Service. 
Students have also completed legal research projects through the Centre, including a report on Reproductive Health and Domestic Violence in August 2014, and a research paper on Working with Children Exposed to Domestic Violence in April 2016.
Endeavour Mobility Grants
In July, TC Beirne School of Law will send students Madeleine Ryan and Jaimee O'Brien  to the University of Tennessee, to undertake domestic violence research under the Endeavour Mobility Grants program.
New Colombo Plan Fellow:
UQ Law student Zoe Brereton was selected as Australia's New Colombo Plan Fellow to India to study languages, politics and human rights at the University of Delhi, where she also planned to undertake an internship with the National Commission for Women.
Fulbright Specialist Professor Leigh Goodmark
In August, Professor Leigh Goodmark of the Maryland Frances King Carey School of Law visited Australia as a Fulbright Specialist Scholar, based at the UQ Law School.  She hosted a seminar to consider the possibilities of using restorative justice models as a response to domestic and family violence. This was followed by a public lecture in Brisbane which brought together academics, lawyers, policy makers and domestic violence service workers to consider the limits of a criminal justice response to domestic violence.
Alongside Professor Heather Douglas, Professor Goodmark gave evidence at the public hearings of the Victorian Royal Commission into Family Violence. Their evidence was mainly focussed on the role of criminal justice responses to domestic violence.
Professors Goodmark and Douglas also discussed the criminal justice response to domestic violence on ABC's Radio National's Law Report. 
Drawing on her experiences in running a Gender Violence Clinical program at her law school, Professor Goodmark shared her insights with students involved in the Manning Street Project.  She also delivered an online webinar to community lawyers in partnership with QAILS, the peak body for community legal centres in Queensland. 
For more on Professor Goodmark's visit, including links to videos of her talks, visit http://www.law.uq.edu.au/fulbright-lg.
Research higher degrees projects:
Ana Borges - Migration and domestic violence: Women's experiences of proving domestic violence as a requirement for permanent residency
Patricia Pais - Domestic violence case processing: The efficacy of no drop prosecution rules: A comparative analysis
Recent publications:
Recent Presentations:
H Douglas, 'Evidence and Victim Experience in Sexual and Domestic Violence Cases: The Approach of the Feminist Judge', Public Lecture, Durham University, Durham (2016)
H Douglas, 'Legal Systems Abuse and Coercive Control', Two Steps Forward and Two Steps Back? Contemporary Issues in Access to Justice for Victims of Family and Domestic Violence, Legal Intersections Research Centre, School of Law, University of Wollongong (2016)
H Douglas, 'Prosecuting Domestic Violence Cases: Is a New Offence the Answer?', IAS Fellows Seminar, Durham University, UK (2016)