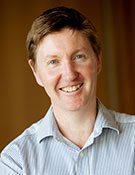 UQ Law academic Mark Burdon will talk on his research passion (the rise of sensor society) at the TEDxUQ 'Rewrite the Rules' this Saturday 23rd May.
UQ Arts/Laws student Madeline Price, and founder and director of the One Woman Project is also among the TEDxUQ speakers.
TEDxUQ is an independently planned and co-ordinated event organised by a dedicated group of UQ students that brings the global TED phenomena to the UQ community, and as the website notes, TEDxUQ aims to "leave our live audience and online viewers feeling more informed and inspired."
You can learn more at www.tedxuq.com/speakers.php and watch the talks on Saturday via www.youtube.com/watch?v=ktlSVhJ798o .