UQ Pro Bono Centre Director Monica Taylor and UQ Adjunct Professor Randal Dennings, Chair of the Centre's Advisory Board, recently returned from a two day listening tour to Roma.  The aim of the trip was to connect with local lawyers and learn about the legal needs of the Roma community.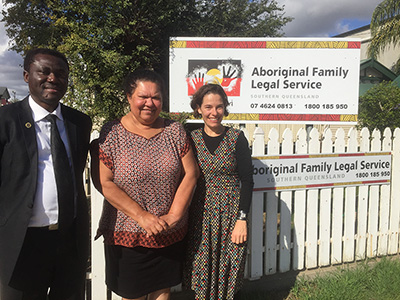 Over the two days, Monica and Randal met with The Advocacy and Support Centre (TASC) Roma lawyers and staff, the Aboriginal Family Legal Service Southern Queensland (AFLSSQ) and general practitioners in private practice who are also retained as Legal Aid preferred suppliers for the region.
As a major regional hub, lawyers based in Roma service not only the immediate population of Roma (approximately 6,500 people) but also people and communities in the surrounding areas of Mitchell, Injune, Surat, Wallumbilla and Yuleba in the Maranoa District.
Although located in Roma, the AFLSSQ services a very large and dispersed client base, providing legal advice, representation and advocacy to Indigenous victims of family violence as far west as Quilpie, Charleville and Cunnamulla, and also through to Goondiwindi, St George, Cherbourg and Murgon.
The Centre hopes that this trip will be the start of an ongoing conversation about how the UQ Pro Bono Centre can optimally support community legal centres and pro bono legal work performed by private lawyers in this part of Queensland.