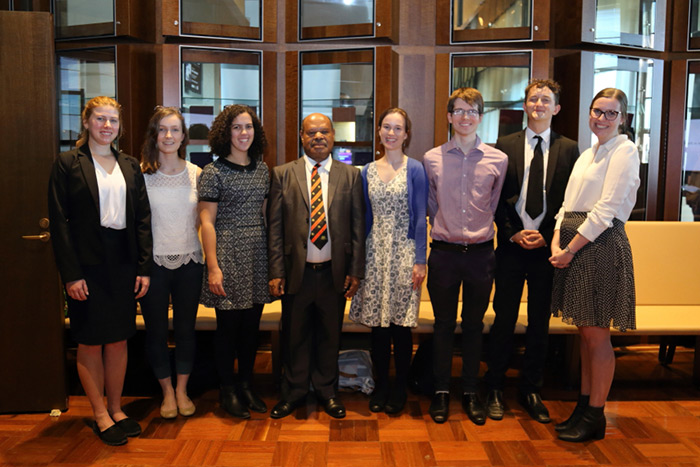 This week the UQ Bono Centre and the Papua New Guinea Supreme and National Courts of Justice celebrated achievements under their Memorandum of Understanding, signed last year in June.
Sir Salamo Injia Kt GCL, Chief Justice PNG attended the Law School on Monday afternoon to personally thank law students who have completed legal research tasks on a pro bono basis, in support of the work of PNG judiciary and registry staff.
UQ Pro Bono Centre Director Monica Taylor said she was delighted that UQ law students were able to meet PNG's leading judge and learn about the impact of their pro bono contribution.
"UQ law students, under the careful supervision of academic staff, have made a valuable contribution to supporting the rule of law through their pro bono legal research." 
"This partnership provides our students with a deeper understanding of the legal system of PNG, as well as international and customary laws and regulations."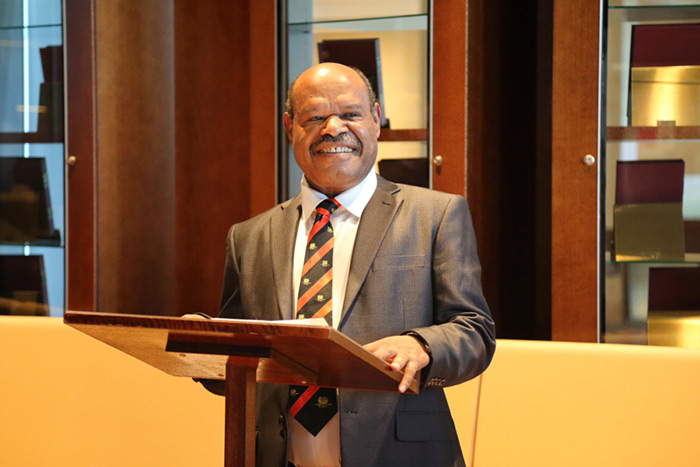 PNG Chief Justice Sir Salamo Injia Kt GCL remarked that the UQ students who undertook the pro bono research were 'pioneers'.
"The students have done an excellent job of researching broad topics.  The students and their supervisors are to be congratulated for the excellent effort and research skills demonstrated," His Honour said.
Also in attendance at the function were Honourable Justices John Logan RFD and Berna Collier of the Federal Court of Australia and Mr Ian Augera, Registrar PNG National and Supreme Courts.
"The UQ Law School is committed to developing a strong pro bono ethos and public service in our students," Ms Taylor said.