For the second consecutive year, a University of Queensland law student has claimed the Colin Biggers & Paisley Foundation's Access to Justice (A2J) Prize.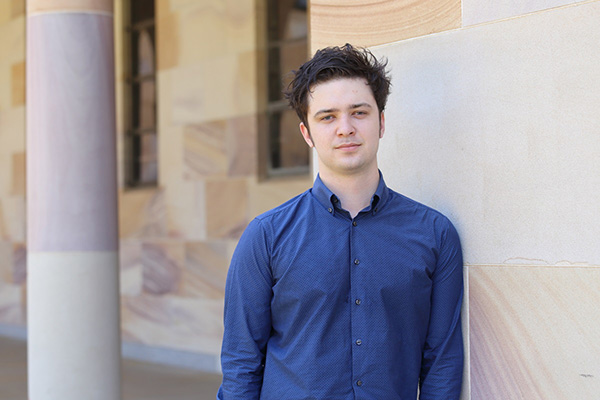 Ryan Godfrey from the TC Beirne School of Law was the joint 2017 prize winner, sharing the honour with a student from Australian National University.
Applicants were tasked with producing a 1000 word essay or video blog on a new, innovative way that law firms can use pro bono legal work to address unmet legal need.
Mr Godfrey's prize-winning essay explored the concept of a pro bono trading scheme, where credits are awarded for pro bono work which can be traded among firms or used to purchase billable work.
The final-year law student said the scheme could create "transformational change" in the legal sector, helping to bridge the justice gap for clients who fail to qualify for legal aid.
"Legal aid is underfunded and restricted at the moment," Mr Godfrey said.
"Many people unable to satisfy the income requirements are at the same time unable to afford the fees for private solicitors. They're left out in the cold.
"My essay was about a scheme which I suggest is mutually beneficial: pro bono groups and the clients they assist would receive the help they desperately need, and participating law firms and solicitors would earn credits for their work which are then used to bid on government work at auction."
Mr Godfrey said his idea would allow smaller firms and sole practitioners to offer a greater volume of pro bono assistance. 
"It's commendable when large commercial firms with significant resources offer pro bono work, but it's another thing entirely for smaller firms and sole practitioners to undertake pro bono services, which they do to a laudable degree.
"The scheme would encourage firms to compete for as much pro bono work as possible.
"Smaller firms would be secure in the knowledge that their pro bono work is recognised in a currency that can be bought, used or traded."
A keen pro bono student, Mr Godfrey attributed part of his success to his time with the UQ Pro Bono Centre – an experience he said was the highlight of his law degree.
"The pro bono work I took part in for organisations like LawRight and the Strategic Advocacy for Human Rights gave me the tools to come up with this idea," he said.
"What the Centre does is very important because it genuinely helps people, and it also gives students the chance to get involved in hands-on work and gain real experience.
"UQ students are incredibly lucky to have the opportunity to assist the people who need it most."
Mr Godfrey said he was eager to pursue pro bono work in his future legal career.
"There are many different ways to participate, whether you volunteer for community legal centres or work within your firm," he said.
"The nature of pro bono work is about trying to right imbalances and correct them as much as you can; they're always going to be there, but you try to make them as small as possible."
UQ Pro Bono Centre Director Monica Taylor said the A2J prize win was significant for Mr Godfrey, the Law School and the Centre.
"While the Access to Justice Prize is only in its second year, this is the second consecutive win by a UQ Pro Bono Centre student," Ms Taylor said.
"This achievement speaks to our students' strong grasp of access to justice issues, and their commitment and ability to find solutions to complex problems facing the legal community."
As the joint prize winner, Mr Godfrey received a cash prize of $2000 and the opportunity to take up a paid internship at Colin Biggers & Paisley in their Responsible Business group.