LAWS5233 Environmental Sustainability and the Law - Malaysia
Environmental Sustainability and the Law placement as part of LAWS5233 (Transnational Perspectives in Law) will not run in 2019/2020 but is likely to run in winter 2021.
This elective law course is run by the Law School in partnership with a Malaysian organisation, Future Law.
Up to four UQ law students are usually selected to participate in the program, which will commence in-country on June 2021 and will run for a period of five weeks. The timeframe will likely align within the standard 2021 winter break but will reflect a semester 2 (Teaching Period 5) 2021 enrolment.
Student experience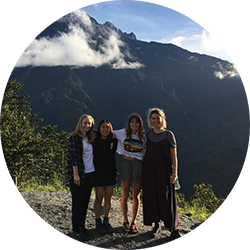 ... the six and a half weeks I spent in Sabah as part of the international environmental law clinic, [were] 'life changing'...The clinic gave me an insight into a professional world I had never experienced, introduced me to new concepts and ideas, exposed me to completely new world views and, most importantly, connected me with like-minded people.
- Jane Hall, 2018
Future Law is an organisation that works within legal systems to catalyse legal innovation, re-imagine legal education and enhance legal communication. Lawyers at Future Law work with leaders across sectors to innovate how environmental law is developed, practised and used.
This course offers students a 'hands-on' opportunity to make a real contribution to environmental justice while being involved in a remarkable experience of living and working in Asia. 
Some of the activities of this course will include:
Living and working in Sabah for six weeks, from January to February 2020;
Participating in a weekly legal seminar series to build students' knowledge of the interaction between local laws and policies and broader political, economic and juridical processes and their impacts on environmental conservation in Sabah;
Researching and developing technical papers on relevant areas of law. Specific topics will be decided with Future Law staff and will likely concern environmental courts and marine or terrestrial conservation.
The course operates on a full-time basis (approximately 9am-5pm, Mon-Fri) and students work under the close supervision of environmental lawyers Harry Jonas and Holly Jonas. Future Law will identify suitable accommodation and will provide induction, team building, reflections and other activities during the placement period.
Applications for interested UQ Law students for the 2021 winter program will open late 2020.  Enquiries should be directed by email to probono@law.uq.edu.au.
All interested students are encouraged to apply for an OS-HELP Loan with the support of UQ Abroad. The deadline for OS-Help loans for overseas study commencing March to August is 15 January. 
PLEASE NOTE: OS-Help loan applications can be withdrawn without penalty if the student's application is unsuccessful, so it is best to apply at the outset.
Selected students will also be supported by the UQ Law School by way of a $3000 AUD stipend thanks to mobility grant funding via the New Colombo Plan. Selected students are expected to put the $3,000 towards the costs of this academic placement. 
Estimated costs include:
Future Law 2021 Programme Administration Fee – $1000 AUD
Return flights – approximately $2000 AUD
Accommodation (+ utilities) - approximately $500-600 AUD per person per month. 
Food, internet, local transport – approximately $150-200 AUD per month (with variations depending on personal choices such as phone plans and evenings out). 
Visas – no cost. There are no visa requirements for Australians travelling to Malaysia - students will receive a free 90 day tourist visa upon arrival in Sabah.
Student flights to and from Kota Kinabalu must be arranged through Campus Travel.  As an official elective law course, UQ travel, personal accident, professional indemnity and public liability insurance will cover students on placement.  UQ will arrange a full pre-departure risk assessment for selected students. 

Contact
Pro Bono Centre
Monica Taylor
Director, UQ Pro Bono Centre
Harry Jonas
Future Law Supervisor