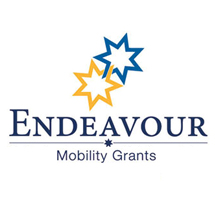 The TC Beirne School of Law has secured funding under the Australian Government's Endeavour Mobility Grants Scheme to assist 10 Bachelor of Laws students to travel to selected international institutions. Selected students must complete a piece of assessable research, such as LAWS5233 Transnational Perspectives in Law.
Each grant will be for the sum of $2,000 to assist with travel and accommodation expenses.
Endeavour Mobility Grants
The Australian Government has established the Endeavour Mobility Grants to provide support for Australian students to study overseas as part of their Australian qualification.
Endeavour Mobility Grants support Australian Students to have an overseas study experience that contributes to their Australian qualification. In 2017 at the TC Beirne School of Law students, through short-term study, are able engage in the academic and social cultures of other regions, strengthening their global knowledge and experience.
Objectives
Endeavour Mobility Grants are designed to :
support students to study overseas as part of their qualification, where the study is for academic credit or is otherwise a mandatory component of the student's course
create opportunities for students to engage globally with other students, institutions and employers
strengthen institutional capacity to collaborate and partner with overseas education providers.
Short-term Grants are provided at a rate of $2000 per student to allow students to participate in a Project less than six months in duration.
Funding is available to support Projects undertaken between 1 January 2017 and 31 January 2018.
Welfare and safety
The welfare and safety of students involved in an Endeavour Mobility Grants Project is of utmost importance.
Students receiving a Grant should make independent inquiries about the risks involved in overseas travel. This should include visiting Smartraveller for current information about risks overseas and how to prepare for overseas travel. Students should register with Smartraveller and subscribe to relevant travel advisories before starting their Project (http://smartraveller.gov.au/).
Study Overseas Short-term Mobility Program
The Study Overseas Short-term Mobility Program (STMP) provides Short-term Grants for Undergraduate Students to undertake study overseas that is for Academic Credit or is otherwise a mandatory component of the Student's course. STMP grants may be used to support Students to participate in short-term (less than six months) Projects in a relevant field or course of study.
The aims of STMP are to:
increase the overall number of students with an overseas study experience related to their field of study
encourage students through a short-term study experience to consider longer-term mobility options
increase collaboration between higher education institutions in Australia and participating institutions or organisations overseas
assist institutions that are seeking to diversify their Programs to include innovative options, minority groups and/or non-traditional locations.
Eligible Students
A Student participating in a STMP Project and receiving a Short-term Grant must:
be an Australian citizen or Australian permanent resident
be enrolled at an eligible Australian Higher Education Provider
be enrolled in an LLB, LLB(Hons) or associated dual degree program at the TC Beirne School of Law at the commencement of the Project
not have previously received an STMP grant under a current or past STMP Project.
Equal opportunity
The Grant Provider encourages active support for potential participants from "Disadvantaged or low socio-economic (SES) backgrounds".
Promotion of Endeavour Mobility Grants
Details and images of students may be used by The University of Queensland and the Australian Government Department of Education and Training for promotion of Endeavour Mobility Grants. This may include use in promotional material, information and publications in hardcopy and/or on the internet.
To be eligible for a grant, students must be enrolled in a Bachelor of Laws (or associated dual program) at TC Beirne School of Law.
Students must be Australian citizens or Australian permanent residents, and must not have previously received a Short Term Mobility Project Grant.
Project (C) (CANCELLED)
Attendance at United Nations Commission on International Trade and Law – Working Group IV – UN Vienna, 20-24 November 2017 (dates to be confirmed by the UN). Up to three students will be selected for this opportunity.
Applications close on 4 August 2017. Applications must be in writing to the Grant Convenor, Dr Alan Davidson and should include:
Curriculum Vitae (1-5 pages)Statement of Interest (1-2 pages). Please clearly indicate any previous courses or experience which relate to the research area of the placement/s for which you are applying.
Potential topics include: the role and operation of UNCITRAL in the international trade community; Electronic Commerce Conventions and Model Laws of UNCITRAL; and the work in progress by the Working Group on Electronic Transferable Records.
The project is supervised by Dr Alan Davidson who has been a delegate attending Working Group IV (Electronic Commerce) meetings of UNCITRAL since 2011. Attendance at all five days of the Working Group is compulsory. Students will have limited access to UN materials and facilities. Students will have to opportunity to meet with UN personnel and other delegates.  The students would be expected to take notes, make summaries and write a short report.
Project (A) (CLOSED)
Attendance at UNCITRAL – Working Group IV – UN Headquarters New York, 24-28 April 2017.
Project (B) (CLOSED)
Attendance at the Comité Maritime International Conference in Genoa, Italy, 6-8 September 2017. Up to two students will be selected for this opportunity.
Applications close on 14 July 2017. Applications must be emailed to Ms Geneviève Murray and should include:
Curriculum Vitae (1-3 pages)
Statement of Interest (1page)
Current studies report (unofficial copy fine)
In Italy, students will participate in the Comité Maritime International (CMI) Conference. The CMI is a non-governmental not-for-profit international organization established in Antwerp in 1897, the object of which is to contribute by all appropriate means and activities to the unification of maritime law in all its aspects. At the conference, the work of International Working Groups and/or International Sub-Committees will be debated and, if appropriate, concluded with a resolution at the plenary session at the end of the Conference.
In between the Conferences, Colloquia and Symposia are sometimes organised by National Maritime Law Association in conjunction with the CMI.
Professor Sarah Derrington is the Chairman of the International Working Group (IWG) on Cross-border Insolvency. The work of this IWG is coming to a close and will be examined at a Seminar and Meeting of the CMI Assembly at Genoa, Italy on 7-8 September 2017.
Students will develop a research paper beforehand under the supervision of Professor Sarah Derrington, Dean of Law and Head of School.
The students who are selected to participate will be required to enrol in LAWS5233 Transnational Perspectives in semester 2 of 2017. Students will be required to undertake comparative research on the UNCITRAL Model Law on Cross-border Insolvency by the middle of August with the aim of preparing a set of recommendations that can be used for discussion at the Meeting in September.
Students will travel to Genoa to observe the workings of an IWG and the CMI and will have the opportunity to participate in the Young CMI Program.
Please note: Students involved in this project will be required to complete most of their assessable research prior to departure and should be have capacity to undertake research over the winter break