The TC Beirne School of Law is pleased to host prominent judges and legal practitioners under its Distinguished Practitioner-in-Residence program.
Aim
The TC Beirne School of Law has long valued its close relations with those who practise the law, many of whom are distinguished alumni. The aim of the Practitioner-in-Residence program is to provide an opportunity for accomplished legal practitioners to share their insights and expertise with members of the law school community. As well as interacting with students, staff and alumni in a variety of settings our distinguished guests will also have the opportunity to reflect on the practice of law and refresh their own perspective, discuss issues relevant to both academia and practice, link practice with research and theory or take time to write articles.
During their time on campus they will participate in various activities such as mentoring students, giving guest lectures and/or staff seminars, participating in practice moots or other legal skills training. They will also be invited to join the Head of School at appropriate meetings, events and other activities.
How to apply
The Practitioner in Residence Program is arranged by invitation rather than by formal application, but any practitioners interested in participating should contact Prof Sarah Derrington, Academic Dean and Head of School, on dean@law.uq.edu.au or (07) 336 52361.
Richard Douglas QC
Silk-in-Residence, 17 August to 21 August 2015
Richard Douglas QC was admitted to the Bar in 1980 and commenced practice in 1982 after working as a law clerk in Townsville, NQ. In 1998 he was appointed Senior Counsel in and for the State of Queensland. In 2013 he was appointed Queen's Counsel. He practises in Queensland and interstate in civil trial and appellate advocacy, with associated advisory practice.
His areas of specialty are insurance, common law and statutory liability, commercial law, commercial vendor and purchaser, real property and statutory confiscation of criminal profits. He has a particular expertise in proportionate liability in economic loss and property damage cases.
From 2009 to 2011 Richard was President of the Bar Association of Queensland, a director of the Law Council of Australia and member of the board of the Australian Bar Association. He is chair of the Bar Association of Queensland general litigation advisory committee.
Soraya Ryan QC
Silk-in-Residence, 27 April to 1 May 2015
Soraya Ryan holds a Bachelor of Commerce and Bachelor of Laws (with First Class Honours) from the University of Queensland (UQ).
She was the associate to the Honourable Justice G N Williams of the Supreme Court of Queensland.  She worked briefly at a commercial law firm and then as a legal officer at the Ward 10B Inquiry.
At the end of the Inquiry, she joined the Office of the Director of Public Prosecutions.  In 1992, she was appointed a Crown Prosecutor. From 1999 until 2001, she lectured in evidence at UQ.  From 2002 – 2009, she was in-house counsel at Legal Aid Queensland. She commenced practice at the private bar in January 2010.  She took silk in November 2013.  She has been one of the authors of Carter's Criminal Law of Queensland since 1996.  From 2010 until 2013, she was also a part-time member of the Queensland Law Reform Commission.
Prashanth Sabeshan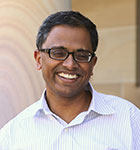 Practitioner-in-Residence, 20 to 24 October 2014
Prashanth Sabeshan is a dual qualified legal practitioner, (as an advocate in India and as a Solicitor with the Law Society, England & Wales (non-practising)) and is based in Bangalore, India.
Prashanth has been practising since 1997 after completing his legal studies from the National Law School of India University, Bangalore, one of India's leading law schools. Prashanth has worked across three jurisdictions – India, Singapore and Australia, with leading law firms like Amarchand Mangaldas, Majmudar & Partners, Freehills (now Herbert Smith Freehills), and Norton Rose (now Norton Rose Fulbright) and also briefly in an in-house role involving an Indonesian infrastructure/mining project.
Prashanth practises in banking, finance, infrastructure and resources law areas and advises clients on due diligence, investments in infrastructure projects, development of greenfield and brown field infrastructure, renewable energy projects, upstream and downstream gas sales and purchases, power purchases, fuel/coal supply and linkages, ports, mining and mine off-take, construction, project financing of infrastructure projects, trade and corporate financing, cross border finance, Reserve Bank of India regulatory issues, and loan and security structuring and related documentation. He has been ranked as a Recognised Practitioner in these areas in the Chambers Asia Pacific 2014 edition. Prashanth is a member of AMPLA (Melbourne, Australia) and AIPN (Houston, USA). He also has published articles of contemporary legal interest in these areas and speaks at various forums.
Bernard McCabe
Practitioner-in-Residence, 8 to 12 September 2014
BA LLB (UNSW) GradDipLegPrac (UTS) LLM (Corp&Comm) (Dist) (Bond)
Full-time Senior Member, Qld
First appointed 1 July 2001; current appointment until 30 November 2016
Bernard McCabe was appointed as a part-time Member of the Tribunal in July 2001 and as a full-time Senior Member in November 2003. He was a member of the Faculty of Law at Bond University from 1992 until 2006. From 1998 to 2001, he served as a member of the Legal Committee of the Companies and Securities Advisory Committee, the Commonwealth Government's peak corporate law advisory body.
Senior Member McCabe continues to edit the consumer protection section of the Australian Journal of Competition and Consumer Law and is a member of the editorial committee of the Corporate Governance eJournal. During the past year, he has taught at Bond University on administrative law and the regulation of speech. He has also published in the area of trade practices and administrative law and spoken about legal education and international business law at conferences in Paris and Riezlern, Austria.
Kathryn McMillan QC
Silk-in-Residence, 10 to 14 March 2014
Ms Kathryn McMillan QC is a UQ graduate (BA/LLB with Honours) and a barrister at Quay 11 Chambers in Brisbane. Since her admission to the Bar in 1987, Kathryn has practised primarily in the areas of alternative dispute resolution, civil & human rights/discrimination, family law and child protection law, but also maintains a practice in Coronial Inquests and undertakes work on behalf of APHRA and the medical and other statutory boards in QCAT and QCATA. She has appeared on numerous occasions in the Appellate Division of the Supreme Court in matters related to statutory appeals, and as Counsel in two Commissions of Inquiry: the Public Hospitals Inquiry of 2005 for the Medical Board; and as Senior Counsel Assisting the Child Protection Commission of Inquiry. Kathryn has a particular interest in bio-ethical issues having completed a Master of Laws in BioEthics in 2003. In addition to her court work, Kathryn is an accredited mediator with an expansive mediation practice; both as a mediator and acting for litigants. Kathryn took silk in 2006.
Jonathan Fulcher
Practitioner-in-Residence, 24 to 28 March 2014
Jonathan Fulcher applies his extensive resources and native title and cultural heritage experience to oil and gas transactions, infrastructure developments, joint venture arrangements, and asset and share sales and acquisitions across Australia and internationally. In particular, Jonathan advises clients on mining negotiations and on all aspects of tenement management, both offshore and onshore, in multiple jurisdictions.
Jonathan is one of Australia's leading native title and cultural heritage lawyers, as ranked by Chambers Asia Pacific every year since 2007. He was awarded Australia's Leading Native Title Lawyer by ACQ Magazine in 2013 and was listed in Doyle's Guide to Australia's Leading Native Title Lawyers in 2010, 2012 and 2014. Jonathan has extensive experience negotiating native title and cultural heritage agreements in Victoria, New South Wales, Western Australia and Queensland. He has negotiated numerous Indigenous Land Use Agreements, Right to Negotiate Agreements and Cultural Heritage Management Plans during his career, and has authored a number of publications that have shaped Australia's native title and cultural heritage landscape.
Jonathan's past and current clients include Enertrade, Tarong Energy, Office of the Coordinator General, Sunwater and Stanwell Corporation.
John McKenna SC
Silk-in-Residence, 22 to 28 March 2013
John McKenna is the president of the UQ Law Graduates Association and a barrister specialising in commercial, property & conveyancing law. A UQ graduate (BA/LLB with first class honours), John completed a Bachelor of Civil Laws and postgraduate study at Magdalen College, Oxford, as a Rhodes Scholar before admission to the Supreme Court of Queensland in 1989. He was named one of Australia's best litigation lawyers in the Australian Financial Review's 'Best 2012 Lawyers' survey.
Walter Sofronoff QC SG
Silk-in-Residence, 19 to 23 August 2013
Walter Sofronoff is the Solicitor-General of Queensland and former President of the Bar Association of Queensland (BAQ). Aged 40 when elected, Walter was the youngest person ever appointed President of the BAQ. He also served as the President of the Queensland Anti-Discrimination Tribunal from 2001 to 2005. Walter is a UQ graduate (BA/LLB) and has appeared in the Supreme Court, Family Court, Federal Court and High Court of Australia.