Applications have closed for placements in 2019. Applications will open for the 2020 cohort in mid-late 2019.
If you dream of a career in law and have experienced difficult circumstances during your schooling you can apply for the:
Both the scheme and scholarship aim to increase the diversity of the cohort in the Law School. They give bright students who have overcome significant hurdles a chance to achieve their full potential.
Being given the opportunity to be part of this amazing program has allowed me to excel regardless of where I have come from and what has happened throughout my life.
-  2017 LEAD Scholar
Is this scholarship for me?
The LEAD Scholarship supports students who have experienced educational, social and/or financial disadvantage. There is no exhaustive list of what we will consider.  We encourage you to apply if you:
live or have lived in a rural or remote area
identify as an Aboriginal and/or Torres Strait Islander person
have a refugee background
come from a low-income family
will be the first in your family to attend university
have had recent health issues
have experienced other setbacks that have disrupted your schooling.
LEAD Scholarship eligibility criteria
 To be eligible for the scholarship you must:
be an Australian citizen or hold a Permanent Humanitarian Visa,
currently be completing your senior schooling in Australia at a government school,
have demonstrated educational, social and/or financial disadvantage,
intend to study the LLB(Hons) or an LLB(Hons) dual degree at UQ in 2019,
expect to gain admission to an Approved Program in the year of the award on the basis of predicted senior results and any applicable adjustment factors or on the basis of special entry pathways,
have not completed any prior tertiary study at bachelor level or higher (this does not include enrichment programs),
be available to participate in a formal interview in January 2019. 
Read more: How to apply
LEAD Scholarship
The LEAD Scholarship is offered annually to deserving students who would like to study an undergraduate law program at UQ. For students commencing in 2019, up to 17 LEAD scholarships are available. 
The scholarship offers:
$8000 per year for up to five years to help with living and study expenses
a dedicated academic mentor
a support network through non-residential membership of a UQ college
priority access to internships and career planning assistance.
Applications have closed for placements in 2019. Applications will open for the 2020 cohort in mid-late 2019.
Read more: How to apply for the scholarship and/or Undergraduate Law Admission Scheme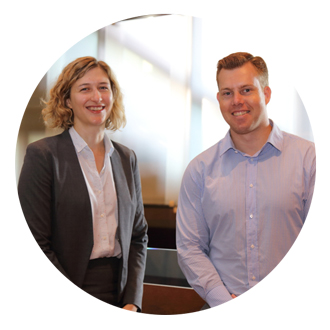 "Not every student with remarkable talent experiences a smooth path through high school. Being the first in their family to attend university deserves recognition, as does overcoming setbacks such as a family emergency, house fire or illness.
"Students should apply even if they think they won't be successful. You can't win unless you apply, and students are often surprised to be chosen as scholarship recipients."


Dr Caitlin Goss and Dr Matt Watson, LEAD Academic Mentors, TC Beirne School of Law
UQ Undergraduate Law Admission Scheme
The UQ Undergraduate Law Admission Scheme is an alternative entry pathway for students who have experienced difficulty during their schooling.
To be eligible for this scheme you must:
be a recent or current Year 12 student
have experienced educational disadvantage during their schooling
obtain the requisite OP / Rank
identify with one or more of the targeted equity groups and meet the residency criteria.
If you are applying for the Undergraduate Law Admission Scheme you must also apply for the Educational Access Scheme (EAS) offered by QTAC and/or the Rural Access Scheme for your supporting documentation to be considered.
Please note: scholarship details are subject to final approval.