Previous editions of the Journal have featured contributions by prominent judges and legal academics. These have included articles by The Honourable Michael Kirby AC CMG and The Honourable Chief Justice Robert French AC, along with academic pieces from authors based in Australia, Bangladesh, China, Fiji, India, Italy, Malaysia, Papua New Guinea, Singapore, Sri Lanka and Vanuatu.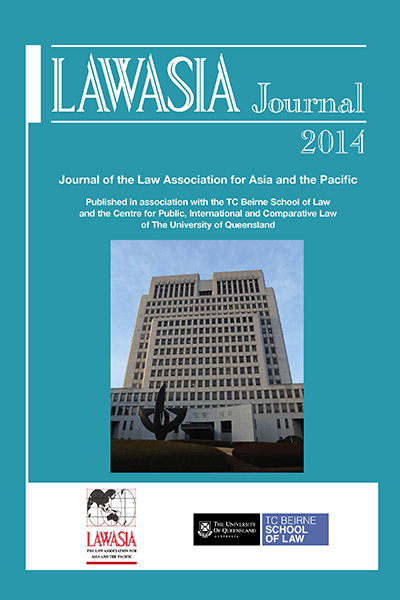 Refereed Articles
Basil C. Bitas: Legal Convergence, Transnational Rule-Making and Regional Integration in ASEAN – from 'Open Regionalism' to 'Open Legal Architecture'
Tanjina Sharmin: Constitutionality of the Chittagong Hill Tracts Peace Accord : Is the Peace Process Valid?
Stephen R. Tully: Professional Secrecy after Timor-Leste v Australia : Is There a National Security 'Exception' to Legal Professional Privilege under Australian and International Law?
Laely Nurhidayah: Community Based Forest Fires Management in Indonesia: A Legal Analysis and Case Study in South Sumatra and Central Kalimantant Provinces
Brooke Thompson: Australia's Options for Sharia Inheritance Law: Discussing India's Legally Pluralistic Inheritance Law System as Applicable to Muslims
Mohammad Abu Taher and Siti Zaharah Binti Jamaluddin: Bangladesh's Legislative Response towards Dowry and Dowry-Related Violence against Women
Book Review
Jennifer Corrin: Legal Pluralism and Development: Scholars and Practitioners in Dialogue
Constance Youngwon Lee and Jonathan Crowe: Constitutionalism in Asia: Cases and Materials
Speech
The Hon. Michael Kirby AC CMG: Human Rights in North Korea: a Special Challenge for Asia's Lawyers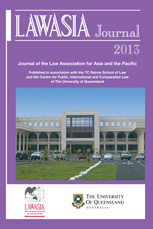 The 2013 edition of the LAWASIA Journal contains the following articles:
Refereed Articles
M. Ershadul Bari: Appointment of Superior Courts' Judges Established in India by way of   Judicial Interpretation and the Aftermath: A Critical Study
 Chee Keong Low and Tak Yip Low: Selecting the Chief Executive of the Hong Kong in 2017  
Phuong Hoa: A Comparative View: Jurisdiction and Extradition in respect of Drug-Related Offences under U.N. Drug Control Conventions and the Vietnamese Criminal Law       
Christine Forster: Transplanting Gender Equity Laws: Evaluating the Monitoring and Enforcement Mechanisms of Vietnam's Law on Gender Equality  
Mostafa M Naser: Preventing Climate-Induced Displacement in Bangladesh through Strengthening Adaptation Strategies
Michael Chapman: Tito v Waddell (No. 2): A Colonial Relic?
Book Review
Jonathan Crowe and Constance Youngwon Lee: Constitutionalism, Power and Equality in Contemporary Korea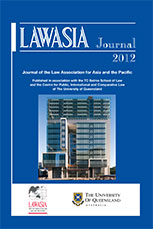 Refereed Articles
Yee-Fui Ng: Disability Rights v Quality Birth Rhetoric: The Construction of Disability in China
Enshen Li: Community Drug Treatment in China: A Promising Program or an Unfinished Project? 
Nathaniel Yong-Ern Khng: Judicial Independence and the Singapore Judiciary 
Siyuan Chen: A Preliminary Survey of the Right to Presumption of Innocence in Singapore 
Suppiah Murugesan: Judicial Independence in a Corparatist State: Singapore - A Case Study 
Suzannah Ward: De Jure Compliance with CEDAW in Pacific Island States 
Iman Prihandono: Litigating Human Rights-Related Cases against TNCs in Indonesia
Athaulla Rasheed: An Institutionalist Approach to Understand the Recent Political Change in the Maldives 
Details of previous editions can be found on the LAWASIA website.
Subscriptions and previous editions can be ordered by contacting 
LAWASIA Secretariat
Suite 1101, Level 11
170 Phillip Street
SYDNEY NSW 2000
AUSTRALIA 

Phone: +61 2 9926 0165
Fax: +61 2 9223 9652
Email: lawasia@lawasia.asn.au