LAWS5233 Environmental Sustainability and the Law - Malaysia
Applications are now open for interested UQ law students to participate in the Environmental Sustainability and the Law placement as part of LAWS5233 (Transnational Perspectives in Law).  This elective law course is run by the Law School in partnership with a Malaysian organisation, Future Law.
Up to four UQ law students will be selected to participate in the program, which will commence in-country on Wednesday 9 January and will run for a period of five and a half weeks. The timeframe aligns within the standard 2018/19 Summer Semester.
Student experience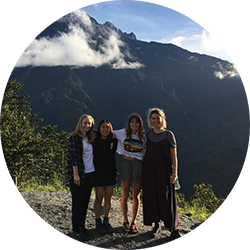 ... the six and a half weeks I spent in Sabah as part of the international environmental law clinic, [were] 'life changing'...The clinic gave me an insight into a professional world I had never experienced, introduced me to new concepts and ideas, exposed me to completely new world views and, most importantly, connected me with like-minded people.
- Jane Hall, 2018
Contact
Geneviève​ Murray
LAWS5233 Course Coordinator
Bridget Burton
Deputy Director UQ Pro Bono Centre
Harry Jonas
Future Law Supervisor