Uni–Capitol Washington Internship Programme
Uni-Capitol is an international exchange program between American and Australian Universities which allows students to complete full-time placements for eight weeks in a US Congressional office in Washington.
Law students who have not previously completed LAWS5233 Transnational Perspectives in Law may be able to utilise this course to participate in the Uni-Capitol Washington Internship Programme.  Students must have completed all level 1 and 2 LAWS courses (all level 1, 2 and 3 LAWS courses for pre-2017 students) and meet a minimum GPA of 5.7 for these courses before submitting their application.  These requirements will be strictly enforced.  Students seeking pre-approved credit for any BEL course towards this internship must contact Helen Lee, BEL Faculty International Mobility Coordinator.
Joshua Underwood
Dual Bachelor of Laws / Bachelor of Arts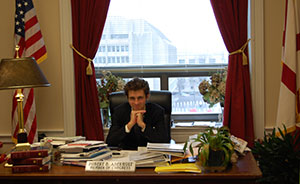 "It was fascinating and totally worth it"
Law student Joshua Underwood was one of the 12 Australian university students selected to participate in the Uni-Capitol Washington Internship Program (UCWIP) in 2011.
With the help of a UQ Advantage Grant, Joshua travelled to the United States to work as an intern in the Washington DC office of Congressman Robert Aderholt, a Republican from Alabama and Chairman of the Home Security Committee.
"I was able to have a lot of contact with the Congressman, who made sure that my time there was utterly memorable. For instance he arranged for me to attend the State of the Union address in the Capitol Building where I was able to see US President Obama's speech and meet war veterans, generals, dignitaries and ambassadors, including Hillary Clinton.
Amazingly, I found myself sitting just a few seats away from Michelle Obama and Laurene Powell Jobs, the wife of Apple founder Steve Jobs."
In addition to spending time in Congressman Aderholt's district in Alabama, Joshua also took the opportunity to take a trip to New York and to visit the town of Montgomery, Alabama where "the first lady of civil rights" Rosa Parks refused to give up her seat on the bus, and to Tuscumbia, the birthplace of author and political activist Helen Keller.
"During my time in the US, I also met the US Vice-President, the Governor of Alabama, the head of the Republican Party, Australia's US ambassador Kim Beasley and more. It was fascinating and totally worth it."