Hear from students who have pursued mooting to the international level and find out what they have gained from the experience. 
2018 Jessup moot team
Mooting makes you creative. You are given a box of ambiguous facts and uncertain law, and asked to craft a convincing argument.

Not only do you develop incredible research and advocacy skills from the Jessup but you have a unique opportunity to make a global network of friends.

If there was ever a greater opportunity to challenge yourself, and discover the type of lawyer you want to be, look no further than Jessup.

The success of our team ... is a testament to our university's exceptional resources, along with the support of the Jessup alumni and the wider mooting community. 
2017 Jessup moot team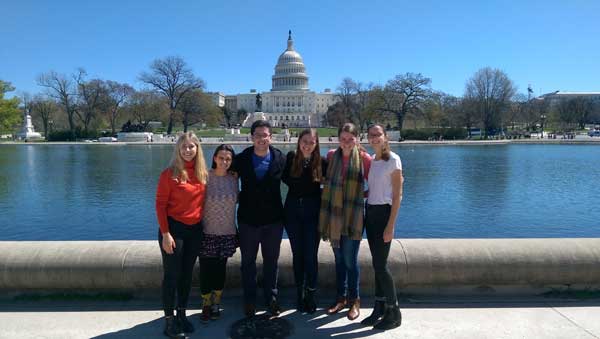 2017 Jessup Moot Team in Washington D.C.
Kate Cincotta
What I found so special about Jessup was the opportunity to tackle a question that had no answer, and having to put our heads together and think, 'okay we've got to write 16,000 words from scratch – how are we going to do this?' Spending three months trying to find this answer was so interesting, and I don't think you'll ever get a comparable opportunity to create an in-depth argument from scratch. It's such a rewarding experience.

Mooting is the greatest legal training around. You're allowed to fail and get things wrong in a really safe environment. There's a place for every kind of law student, whether you prefer research or speaking.
---
Sophie Ryan
Mooting is invaluable experience in terms of helping you understand what it is you really love about the law, and what area of law you want to pursue. Jessup in particular is wonderful because it puts you into a legal context where teamwork is vital and you also have in-depth exposure to a specific area of law. It has helped me realise that I would love to pursue a career in advocacy in international law.

Sometimes law students are reluctant to get involved with mooting because they think it will detract from their studies, but the realisation I've come to is that it has the opposite effect. Mooting has been the most enriching part of my law degree; it has enhanced my critical reasoning skills, my legal research and my drafting skills. Overall, it has only made everything else easier.
Keilin Anderson
Jessup is an incredible opportunity to work out what type of advocate you are and then shape and perfect it with assistance from your coaches and mentors. It provides you with unrivalled legal research drafting and advocacy training that you can't really get in your day to day courses. After having that experience, I can't imagine leaving law school, applying for graduate positions and taking that next step without the skills and experience it gives you.
Join the UQ Moot Program
The UQ moot program is open to all undergraduate law students. 
Click here to see a list of domestic external competitions open to students and watch for opening dates in the In re TCB newsletter. Please contact the Director of Mooting with any questions.
Join your peers and take up the challenge of internal competitions by contacting The University of Queensland Law Society.
Email the UQLS competitions team or visit the Senior Moot Convenor between 12pm and 2pm, Wednesdays during semester in W209 Forgan Smith.