LAWS7024 Occupational Health & Safety Law
This course will introduce students to the central legal concepts and principles in occupational health and safety, including the history and development of OH&S legislation, the relationship between OH&S law and industrial law, and the relationship between OH&S legislation and common law.
Course presenter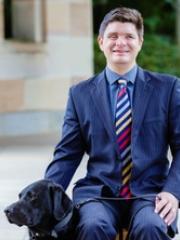 Dr Paul Harpur is a leading international and comparative disability rights legal academic having held visiting positions with the Centre for Disability Law and Policy, Institute for Lifecourse & Society, National University of Ireland, Galway and with the Burton Blatt Institute, College of Law, Syracuse University, New York. Following his work at Syracuse University, Dr Harpur has been appointed an International Distinguished Fellow with the Burton Blatt Institute. He is the holder of a prestigious Fulbright Future Scholarship entitled "Universally Designed for Whom? Disability, the Law and Practice of Expanding the "Normal User".
He has legal practice and teaching expertise in teaching anti-discrimination laws, human rights, labour laws and work health and safety laws.