LAWS7711 Selected Issues in International Law
This course engages in critical analysis of selected issues in international law, placing them in a wider social, ethical and theoretical context. The course seeks to deepen students' understanding of international legal institutions and deepen their ability to engage with debates over international law and policy.
This course will focus on selected topics in international humanitarian law (or the law of armed conflict). This body of law centres on the four Geneva Conventions of 1949 and their two Additional Protocols of 1977. We will examine issues such as the definition of armed conflict, the doctrine of military necessity, the significance of prisoner of war status, the relationship between international humanitarian law and human rights standards, and issues concerning implementation and enforcement.
The course will consider the challenges posed to international humanitarian law by the changing face of armed conflict, the fragmentation of international law, and the evolving character of international relations. We will consider historical and current case studies to examine how humanitarian rules operate in practice.​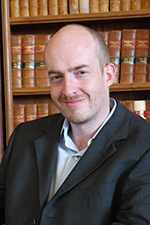 Jonathan Crowe is an Associate Professor and Executive Director (Public Law) of the Centre for Public, International and Comparative Law in the T. C. Beirne School of Law at the University of Queensland. His research examines the relationship between law and ethics at both theoretical and applied levels. He has published widely on the nature of legal obligation and the role of ethics in legal reasoning, engaging particularly with the natural law and existentialist traditions. He has also published research on ethical and doctrinal issues in a range of fields of law, including constitutional law, international humanitarian law, criminal law, family law, corporations law and alternative dispute resolution.
Jonathan is the author of several books and more than fifty book chapters and journal articles. His work has appeared in leading international and Australian journals, including the Modern Law Review, the Oxford Journal of Legal Studies, Law and Critique, the Melbourne University Law Review, the Sydney Law Review, the Federal Law Review and the Australian Journal of Legal Philosophy. His books include Legal Theory (2nd ed, Thomson Reuters, 2013), Australian Constitutional Law: Foundations and Theory (3rd ed, Oxford University Press, 2012) and Principles of International Humanitarian Law (Edward Elgar, 2013). He is currently completing a book on the natural law tradition in ethics and jurisprudence. 
Course information
Course code
LAWS7711
CPD
This course may also be taken as a CPD course or a non-award course.