LAWS7850 Special Topic B - Equity in Commercial Law: An International Perspective
A considerable amount of commercial litigation is concerned with the application of equitable doctrines to commercial practice. This subject will involve an advanced study of some key equitable doctrines, focussing on recent judicial developments of Australian and English law. An understanding of such doctrines and their operation is of great value to any practising commercial lawyer, or to anyone interested in understanding and evaluating commercial law. The seminar leader has written extensively on the topics covered by the course.
Professor Ben McFarlane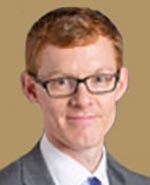 Ben McFarlane is Professor of Law at University College London. His teaching and research interests include commercial law, equity and trusts, and property law. He is a Visiting Professor at Université Panthéon-Assas (Paris II) and an Honorary Senior Fellow at Melbourne Law School. He is the author of The Structure of Property Law  and ofThe Law of Proprietary Estoppel, is one of the authors of Hayton and Mitchell's Text, Cases and Commentary on the Law of Trusts and Equitable Remedies and ofLand Law: Text, Cases and Materials, and is a contributor to Snell's Equity. He is a member of the International Advisory Panel for the American Law Institute's Fourth Restatement: Property.
The following topics will be covered:
The equitable doctrine of penalties: its effect in preventing commercial parties from relying on agreed contractual terms, and possible justifications for that effect.
The doctrine of equitable estoppel: its effect in imposing pre-contractual liability on commercial parties, and possible justifications for that effect.
The scope and nature of equitable compensation and of equitable accounting remedies: their effect in imposing potentially severe liabilities on commercial parties engaged in professional misconduct and possible justifications for that effect.
The availability of equitable proprietary remedies, such as constructive trusts and equitable liens: their effect in giving additional protection to commercial claimants and possible justifications for this effect.
The nature and operation of rights under trusts, including their impact on third parties (including claims such as dishonest assistance and knowing receipt).
The nature of restitutionary claims and the role of equitable principles in their development and operation.
Throughout the course, we will also pay close attention to some key conceptual and comparative questions, such as: what, if anything is distinctive, about the operation of equity? Does it make sense, in modern commercial law, to continue to pay attention to the jurisdictional origin of a doctrine? Are there significant differences in the approach of Australian, as opposed to English, courts to these questions?
Course information
Course code
LAWS7850
Dates
9 - 10, 12 - 13 July 2016 / 10 - 13 August 2017
CPD
This course may also be taken as a CPD course or a non-award course.