50 years ago: lecture by The Hon Michael Kirby AC CMG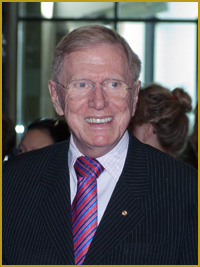 When he retired from the High Court of Australia in February 2009, The Hon Michael Kirby was Australia's longest serving judge.
During a distinguished career spanning five decades, Mr Kirby served as a judge of the Federal Court of Australia, President of the New South Wales Court of Appeal and, concurrently, the Court of Appeal of the Solomon Islands. He was appointed to the High Court in 1996 where he served for thirteen years.
The TC Beirne School of Law is delighted to welcome Judge Kirby to share his law school experiences which will be followed by a Q&A session at this exclusive University of Queensland event.
After the lecture Hon. Kirby will sign copies of Daryl Dellora's new book, "Michael Kirby: Law, Love and Life", published by Penguin. Copies will be available to purchase through the Co-op Bookshop at the venue.
For further information contact Beth Williams on 07 334 69350 or email events@law.uq.edu.au.