It is a fundamental human right that every person is equal before the law. In reality, access to justice is far from equal. 
For many lawyers serving the public interest, providing pro bono legal assistance to vulnerable people is a significant contribution they can make to the community.
---
About the UQ Pro Bono Centre
The Pro Bono Centre Director, partners and students talk about why pro bono work is important (3m:20s, YouTube).
---
Based within the TC Beirne School of Law at The University of Queensland, the UQ Pro Bono Centre is one of the only university-based centres of its kind in Australia, celebrating ten years of operation in 2019.
The community legal sector engages and partners with the UQ Pro Bono Centre student volunteers to enhance their capacity for law reform work, community legal education and direct client assistance.
Through a diverse range of legal programs, the UQ Pro Bono Centre inspires students to understand the value and importance of access to justice. The aim is for UQ Law students to graduate with a lifelong professional commitment to pro bono legal service.
We receive considerable support from UQ Pro Bono Centre students in delivering legal services to women in Queensland. From assisting our lawyers at domestic violence courts around Brisbane to preparing research papers and law reform submissions, the UQ law students' pro bono work is of immense value to our centre and the women we assist.
Angela Lynch, CEO of the Women's Legal Service Qld
Through partnerships with community legal centres, charities and not-for-profit organisations, UQ Law students undertake a wide range of pro bono activities, improving access to justice for the most vulnerable in our community. Activities include clinical placements, completing research projects, law reform submissions, developing community legal education materials, and delivering workshops to high school students.
All student work is completed under the supervision of qualified lawyers and UQ legal academics to ensure the students provide a professional service of exceptional quality. Over the last few years, students have conducted research projects for the Papua New Guinea judiciary and established a climate justice initiative group while working with the Environmental Defenders Office on environmental legal issues. 
Students must have completed at least one year of their program to participate in the Pro Bono Roster, and they do so voluntarily.
Case study
'Ada' was the sole parent of three young children, including a new baby. Despite her best efforts to care for her family, she had accumulated $9,000 of debt. LawRight and UQ Pro Bono Centre students were able to negotiate a waiver of this debt based on Ada's traumatic history and on-going financial and personal hardship.
---
The challenge
Often it is the people most in need of legal assistance who are least able to afford it. They include the elderly, the homeless, Aboriginal and Torres Strait Islander peoples, people with disabilities, young people, those who have experienced domestic and family violence, prisoners and detainees, refugees and asylum seekers, and people with chronic illnesses or injuries.
An estimated 160,000 people are turned away from community legal centres each year, due to a lack of capacity. A further 45,000 people have no alternative but to represent themselves in court over the past 5 years. Access to legal assistance is exacerbated for people living in regional, rural and remote areas of Queensland, due to the lack of local resources and services. 
Case study
Our client was an elderly cancer patient who lived in fear of her neighbour, who assaulted, harassed and intimidated her. Despite reports to police and the Department of Housing, she was unable to improve her situation. Her level of English also made communication with authorities difficult.
Together with the community legal centre LawRight, students from the UQ Pro Bono Centre helped the woman to make a complaint and she was represented in the Magistrates Court by a pro bono barrister. As a result, the neighbour was charged with serious assault and the Court made a Peace and Good Behaviour Order in favour of our client. The Department of Housing also moved the neighbour to a different public housing complex.
---
Our vision
We are committed to supporting this vital work, just as we have done since the Centre was established in 2010. The demand for our work from community legal centres and vulnerable communities is increasing. Our ability to expand our pro bono services to other organisations and increase our presence in regional, rural and remote communities relies on generous support from beyond the University itself.
Over the next three years, the UQ Pro Bono Centre is seeking to increase its presence through project roster work and placements outside Queensland's major cities. We aim to deliver critical legal services to these areas while enabling our students to gain a deeper appreciation of regional legal issues. We hope this inspires our students to continue making their own significant contribution to the community and provides greater access to justice for a wider range of people than is presently possible.
Case study
Without a variation to her Domestic Violence Order, a young patient could not be discharged from hospital. The LawRight legal team and UQ Pro Bono Centre students understood the history of violence in her relationship and the need for the Order, and worked with the treating team and social workers to seek an urgent variation application.
Help us make an impact
With your support we can continue to inspire our students to make a lifelong commitment to pro bono work and improve access to justice in our community.
Below are some of the ways we anticipate your gift can make an impact. Note that these are approximate figures, and once funding is known, the projects will be scoped accordingly.
$2000 will assist a student to travel to a regional, rural or remote community for placement with a community legal service to support the legal work of that service.
$20,000 will fund UQ Law students and pro bono lawyers to travel to regional, rural or remote areas within Queensland to provide legal education /information and assistance to communities. Funds will encompass transport costs, staffing, accommodation, food and other associated costs.
Either $70,000 p.a. for five years, or $1.5m+ for an endowment to fund this initiative in perpetuity, will support an early/mid-career research fellowship within the UQ Pro Bono Centre. The Research Fellow will measure and evaluate the impact of the work of the UQ Pro Bono Centre for both the law students and the wider community sector.
You can make a significant difference to the lives of vulnerable people in our community by partnering with UQ to support the Pro Bono Centre.
Contact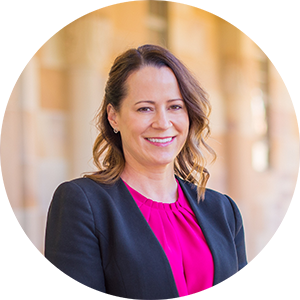 Jo Nitz
Director of Advancement
0448 163 574
joanne.nitz@uq.edu.au