Undergraduate law
Study undergraduate law at UQ with the Bachelor of Laws (Honours) as a single degree program or combined with other degree programs.
Degree programs 
Get the latest information about program entry requirements, dual degrees, careers, and how to apply:
Study law and information techology by completing a Business Management/Laws (Honours), Commerce/Laws (Honours) or Computer Science/Laws (Honours) dual program to graduate with qualifications in law and either Business Information Systems or Computer Science.
Study law and international relations or criminology by completing a Bachelor of Arts/Bachelor of Laws (Honours) dual program. Choose International Relations or Criminology as your major in the Arts program.
After completing the Bachelor of Laws (Honours) you must also satisfy the practical legal training requirements before you can be admitted as a legal practitioner.
Courses
View details for elective courses.
View your program plan to see courses in sequence by semester.
Related
Find out how law honours classes are awarded.
Consider applying for a scholarship when you apply for entry, or as a current student.
Pathways
Worried you won't get in? As a school leaver, you may be able to boost your rank by applying for the Undergraduate Law Admission Scheme. 
Alternatively, you can seek to upgrade to law or a law dual program from any bachelor's degree program at UQ.  You may find it helpful to read Ella's story about upgrading from a Bachelor of Arts. Work out your preferred alternate program, then contact us to discuss your plans.
Go further in your career
Get ready to go further from your first year with a range of experiences on offer through our local and global networks.  The opportunities you choose will help you branch out and begin your career while you study. 
Pro bono opportunities

I've always been interested in social justice and wanted to use my skills to contribute to the community in some way.
- Zoe Chan
Work pro bono - for the public good for no reward - under the supervision of leading academics and senior practitioners. 
Our Pro Bono Centre is unique in Australia.  We match students with Community Legal Centres, barristers, and a variety of non-government organisations in Queensland and the Asia-Pacific.
Prepare for court

[Mooting] is a pathway to personal, competitive and academic development, requiring teamwork and critical reasoning to conquer complex questions.
Join a student 'moot' team to practice advocacy skills in a mock dispute. Mooting is the closest you can get to professional practice in court. UQ mooting allows you to shine in competition and collaboration with other students, and go further than you thought possible.  
Overseas study and work

I really loved my time in Prague ... I will always remember those weekend trips away, the incredible architecture, amazing food and the knowledge. I have made some friends for life.
International experiences offer transformational learning and give you an edge with employers.
Through our partner universities, global networks and alumni, we offer a wide selection of overseas experiences including student exchange (study overseas for a semester or two), shorter-term study, and internships. 
Our international mobility coordinator can help you plan your adventure. 
Networking, sport and leadership

I have been actively involved in law student life, holding a position on the UQ Law Society Education Board and participating in the UQLS netball team and buddy system, the UQ law Revue, and the UQ Human Trafficking and Migrant Smuggling Working Group.
Ease your transition to uni and make friends by joining a law student group or sports team, getting a buddy through the Law Buddy mentoring program or getting involved in a UQ student club.  
Having a network in law school will help you work out the lawyer you want to be, provide opportunities for leadership, and keep you in the loop of professional opportunities.
Go further with innovative teaching and learning
Our teaching methods and learning spaces will prepare you for work in a new global age where legal practice involves multi-disciplinary teams, and collegiate and cooperative working styles.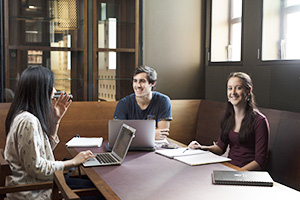 Enjoy small group learning
Enjoy being part of a small yearly intake and learning in seminar-style small groups.  Acquire rigourous legal knowledge and outstanding critical thinking skills in collaboration with your peers, and in close consultation with your teachers.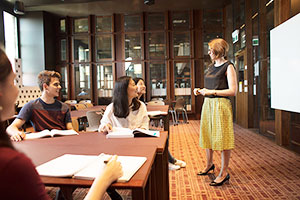 Informed by research and practice
We bring together leading national and international scholars, distinguished alumni and leaders of the legal profession to provide outstanding teaching, informed by the latest research and practice.  
Information for international students
The LLB(Hons) fulfils the academic requirements for admission as a legal practitioner throughout Australia. Students from Singapore, Malaysia or India may use the LLB(Hons) to fulfil the academic qualifications required for admission to the legal profession in their home country. Once admitted in Australia, overseas students may only need to complete limited conversion modules to be eligible for admission in their home country.
Career services

After I went to a consultation for advice on my law clerkship interviews, I was offered two clerkship positions. I also [went on] excursions to major law firms ...I had the opportunity to get to know the lawyers on staff, see how I would fit into the workplace culture and hear from senior associates and partners.
From first year, we will work with you to identify your career goals, package your experiences, skills and interests into a marketable profile, and connect with employers, mentors and work opportunities.
Get the latest information online about law single and dual undergraduate progams
Takeaway the Business, Economics and Law Undergraduate Guide
Like UQ Law on Facebook for the latest news and events