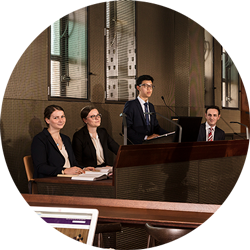 Sharpen your advocacy skills and prepare for the courtroom
As an undergraduate student, you are invited to join in legal advocacy competitions as an extra-curricular activity.  Moot competitions are a tradition in law schools – they provide the opportunity for you to learn from experienced legal professionals and bring out the best advocate in you.
As a mooter, you will join a team that will argue a hypothetical case on appeal in a simulated courtroom against another student team. Each team researches their case and presents written and oral submissions, with feedback and advice from your coach along the way. Other arbitral and negotiation experiences are also available to students.
Learn more about the UQ mooting experience
Coaching opportunities
If you have been part of a domestic or international team and would like to give back to the program as a coach or mentor, we invite you to let us know.
Please read the coach selection criteria before submitting your expression of interest through the link below. 
Submit your expression of interest in coaching
Internal competitions
Each semester, the UQ Law Society (UQLS) offers an array of legal advocacy opportunities for law students. Whether you want to negotiate deals, interview clients or present submissions, the UQLS has the competition for you.  These competitions provide excellent exprience for students looking to get involved in the school's external advocacy program
External competitions
In addition to internal competition opportunities provided by the UQ Law Society, you can go further and apply to represent our school in Australian and international competitions. 
Australian
Discover current competitions that you can apply to participate in, and read the general selection criteria.
International 
UQ and other Australian law schools have a proud history of success in international competitions. In the later years of your undergraduate degree, you can participate in a selection of international competitions. These include:
Annual dinner celebration
As a student who has represented the school in external competitions, you are invited to attend the annual David F Jackson Dinner to celebrate your achievements and enjoy speeches from senior jurists.
Support UQ mooting
Individual donations
Help students become the advocate and leader they want to be by supporting moot competitions at UQ.
To make an individual donation, please visit our Giving page.
Corporate sponsorship
Gain exposure for your firm name and logo at guest lectures and functions, on the law school's mooting web page with a direct link to your firm's web page, in mooting program publications, and at mooting-related functions.