Why pro bono?
Public interest practice is a key professional value of lawyers. Through the Pro Bono Centre, the School of Law would like all its law students to recognise the value of pro bono work, and to commit to undertaking pro bono work both while they are students and in their professional careers. The Centre is the only resource of its type in an Australian law school.
Pro bono activities undertaken by students do not attract academic credit. Pro bono, by definition, is work for no reward. The benefits to students lie in the work experience, the professional networks formed, and the knowledge they are working in the public interest for the benefit of the community.
Current UQ law student? Join the pro bono roster to be notified of pro bono opportunities throughout the year.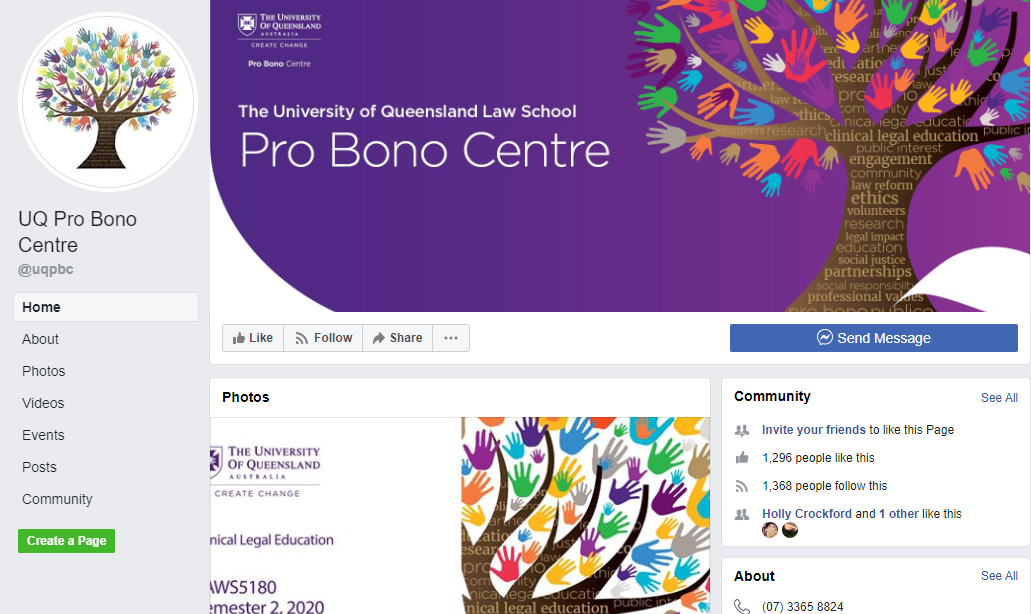 Don't miss out!  Get the latest events and news from our students on Facebook.
Pro bono roster teams
As well as offering a wide range of unique opportunities, the Pro Bono Centre and partners offer team opportunities on an ongoing basis. Discover the kinds of work you can do with each team.
Study opportunities
These opportunities are for academic credit and must be applied to separately.
Domestic
Enrol in LAWS5180 Clinical Legal Education to gain experience working directly with clients, or on research for law reform, in the public interest. 
Pro Bono Publico Award
The Pro Bono Publico, Latin for For the Public Good, award recognises and celebrates one graduating student each year who has made an exceptional contribution to the community through their pro bono legal work.
Nominations are now open for students graduating in 2021.
Support the UQ Pro Bono Centre
The kind donations of our supporters enable the Centre to continue to help the most disadvantaged in our community to access justice and teach our students the value of pro bono work.