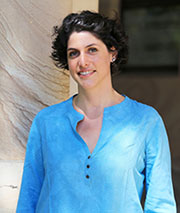 Elena Sorda is a Visiting Endeavour Research Fellow at The Centre for Public, International and Comparative Law, TC Beirne School of Law until December 31st. Elena is a post-doctoral fellow from the University of Genoa, Italy, where she also graduated in Law in 2010.  Since March 2014 she has held a PhD in Public Comparative Law from the University of Siena. Elena has also been a visiting scholar at the Complutense University of Madrid, Spain, and at the Autonomous University of Coahuila, in Saltillo, Mexico.
Elena's main research interests involve freedom of religion and social rights. Her PhD thesis focused on freedom of religion and employment relationships in the private sector and she conducted her research giving a special attention to the European multilevel human rights framework, as well as the Italian and Spanish systems.
She has written articles in Italian, Spanish and English and has presented the results of her research at Congresses and Symposiums both in Italy and abroad, including: the First Inter-American Observatory on Human Rights (May 2015, Saltillo, Mexico), the IACL-AIDC IX World Congress of Constitutional Law (June 2014, Oslo, Norway) and the IV Biennial Symposium of Young Comparative Law Scholars (May 2014, Roma, Italy).
Research Series Seminar
Social rights: a focus on their nature, protection and case law in the European system
Elena will focus on the theory that stands behind social rights, especially regarding their nature as fundamental rights or not. She will also analyse their protection by the European system, with a special attention for the Council of Europe (including the European Convention on Human Rights and the European Social Charter and the relevant case law).
TC Beirne School of Law Research Seminar Series
Friday 11th September, 2015
12:00pm – 1:00pm
Sir Samuel Griffith Room, 1-W341, Forgan Smith Building
All welcome, no RSVP required