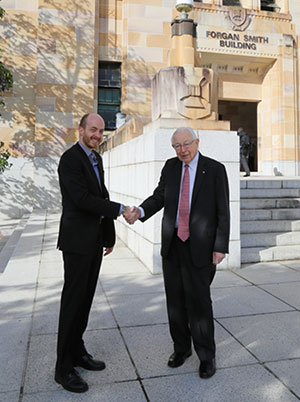 On 10 and 11 July the TC Beirne School of Law and CPICL hosted the conference 'Judicial Independence in Australia: Contemporary Challenges, Future Directions'. This was an initiative of CPICL Fellows Dr Rebecca Ananian-Welsh and Associate Professor Jonathan Crowe.
The Judicial Independence Conference was launched with a keynote address from former Chief Justice of the High Court Australia Sir Anthony Mason. This address was followed by six sessions, each chaired by a judge or leading barrister. Over the two-days of the conference, papers were delivered by some of Australia's leading public law scholars, including Professors Andrew Lynch, Brian Opeskin, Fiona Wheeler, George Williams, Heather Douglas, HP Lee, James Allan, John Williams, and Suri Ratnapala, and as well by as The Honourable Justice Martin Daubney of the Queensland Supreme Court. The Judicial Independence Conference generated a great deal of interest and attracted 70 participants. It bought together not only members of the judiciary and leading scholars, but also practitioners, early career researchers and students to discuss the role, importance and protection of judicial independence today. Discussion topics included: judicial appointments and tenure, criticism of judges by politicians and the media, feminism and judicial diversity, courts' use of social media, extra-judicial activities, constitutional protections for judicial independence, and the role and philosophy of the separation of powers.
The Judicial Independence Conference was undertaken with the support of Rule of Law Institute of Australia's Magna Carta Committee as part of this year's celebrations to commemorate the 800 year anniversary of the sealing of the Magna Carta. Conference tweets were posted to #judindau.