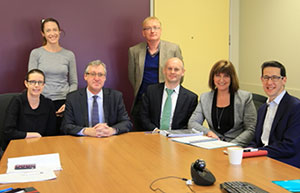 The University of Queensland's TC Beirne School of Law was honoured to play host to a visit by Dr Thomas Albrecht, the Regional Representative for Australia and Oceania of UNHCR, the United Nations High Commissioner for Refugees. Dr Albrecht visited UQ to learn about the work of the UQ Migrant Smuggling Working Group, led by Professor Andreas Schloenhardt, and discuss the findings of a recent study on Migrants Smuggling in Asia that was authored by the Working Group for UNODC, the United Nations Office on Drugs and Crime.
Dr Albrecht also met with Professor Sarah Derrington, Dean of Law, Professor Simon Bronitt, Deputy Dean and Director of Research, and Dr Jessica Gallagher, Director UQ Global Engagement, to discuss further research and teaching cooperation between UNHCR and UQ.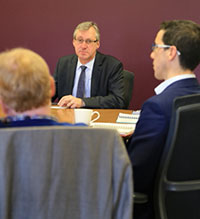 Dr. Thomas Albrecht is the Regional Representative of the United Nations High Commissioner for Refugees in Canberra, with geographical responsibility for the region, which includes Australia, Cook Islands, Fiji, Federated States of Micronesia, Kiribati, the Marshall Islands, Nauru, New Zealand, Niue, Palau, Papua New Guinea, Samoa, the Solomon Islands, Tonga, Tuvalu and Vanuatu. Mr. Albrecht's role is to work with governments and other partners to ensure all persons of concern to UNHCR, including refugees, asylum-seekers and stateless persons, receive protection, assistance and durable solutions to their plight. He is also keen to promote long-term cooperation on the protection of persons of concern in the region, and to increase understanding and support for refugees worldwide.
UQ's Migrant Smuggling Working Group brings together a team of experts, students, and staff from The University of Queensland's TC Beirne School of Law and the School of Political Science & International Studies, and from the University of Vienna, Department of Criminal Law and Criminology. The Working Group exposes and analyses the reality of and responses to migrant smuggling in a range of jurisdictions and continuously monitors national and international developments.
For further information, please visit www.law.uq.edu.au/migrantsmuggling