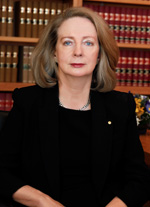 The TC Beirne School of Law at The University of Queensland warmly welcomes the appointment of the Hon Justice Susan Kiefel AC as Chief Justice of the High Court of Australia and the first woman to be appointed to this highest judicial office.
Justice Kiefel is an inspiration to the current and next generation of lawyers who aspire to make a significant contribution to the nation through our important public institutions. As Justice Kiefel noted in her statement on the announcement of her appointment, "the work of the High Court affects the nation and it affects people in their daily lives".
Professor Sarah Derrington, Head of the School of Law, wrote a full welcoming letter to Justice Kiefel in yesterday's Courier Mail.
The School is also delighted to welcome the appointment to the High Court of Adjunct Professor Justice James Edelman. At only 42, he will be the fourth-youngest appointee in the Court's 113 year history. Justice Edelman was a Rhodes Scholar and was Professor of the Law of Obligations at Oxford University from 2008-2011. In 2011 he was appointed a Justice of the Supreme Court of Western Australia and, in 2015, was appointed a Justice of the Federal Court of Australia in Brisbane.
The School wishes Justices Kiefel and Edelman every success in their new roles.