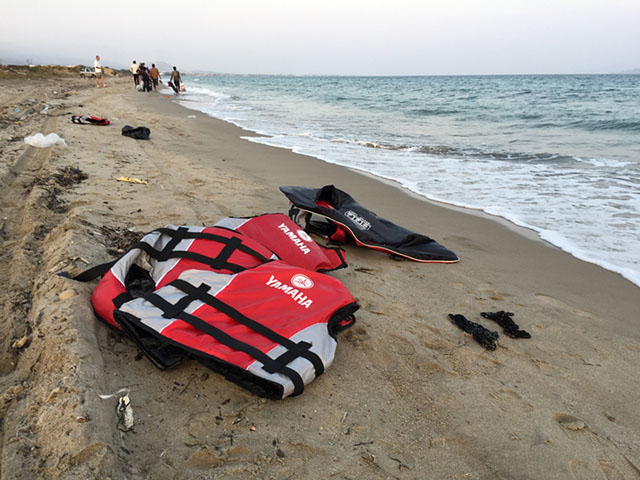 On World Refugee Day 2017, the United Nations High Commissioner for Refugees reported that more than 65 million people worldwide were fleeing persecution, war, discrimination, and human rights abuses.
"Many more are leaving their home countries to escape from poverty, unemployment, natural disasters and climate change, hoping to find a safer life and a better future for themselves and their families," said University of Queensland TC Beirne School of Law Professor Andreas Schloenhardt, who leads the University's Migrant Smuggling Working Group.
 "Never before have so many people been forcibly displaced.
"For refugees and other migrants lacking regular avenues of migration, smugglers frequently offer the only way to reach safety and to pursue the hope of a better life abroad.
"Virtually every country in the world is affected by the smuggling of migrants, whether as a country of origin, transit or destination."
The Migrant Smuggling Working Group brings together academic experts and students from the TC Beirne School of Law, the School of Political Science and International Studies, and the University of Vienna's Department of Criminal Law and Criminology.
Since 2011, the Working Group has explored the causes and conditions that drive migrants into the hands of smugglers, and the policies, laws and practical measures designed to prevent and suppress this phenomenon. 
Professor Schloenhardt said the restrictions placed on the free movements of people played into the hands of migrant smugglers. 
"Taking advantage of those willing or forced to migrate, migrant smugglers create illegal ways of migration by using covert and overt methods to transport people, supplying false documents, or harbouring irregular migrants," he said.
"During their journeys, smuggled migrants are often vulnerable to life-threatening risks and exploitation.  Thousands of people have suffocated in containers, perished in deserts, or drowned at sea. 
"Behind the media hype and political rhetoric about the smuggling of migrants lies a complex and dynamic process that poses considerable challenges to policy makers, legislators, law enforcement agencies, and international organisations."
To help prevent migrant smuggling and promote safe migration, the Migrant Smuggling Working Group is involved in several international initiatives.
Earlier this month, Professor Schloenhardt joined a panel of 15 experts in Berlin, Germany to provide a concrete vision for the UN's Global Compact on Migration. Convened by The World Bank and hosted by Germany's Federal Ministry for Economic Cooperation and Development, the Expert Group developed thematic elements of a framework for global governance on migration, and guidance on the operationalisation of migrant-related programs.
Later this week, Professor Schloenhardt will co-chair the Council of Europe's conference on smuggling of migrants. Held in Strasbourg, France, the conference will bring together observers, experts, and representatives of the 47 Member States to examine the strengths and weaknesses of existing laws to combat migrant smuggling, and explore opportunities for further cooperation and new international frameworks.
On 18 September 2017, UQ will host a panel of international speakers on the topic of 'criminalising migrant smuggling; promoting safe migration'. This event is part of the Law School's Organised Crime and Corruption forum. 
To learn more about the UQ Migrant Smuggling Working Group, visit the website.