Telei'ai Dr Lalotoa Mulitalo of Samoa recently completed her 2017 Greg Urwin Awards placement with the launch of a publication she authored, Legislative Drafting in the Pacific Context, at the University of Queensland's TC Beirne School of Law in Australia on Friday 14 July.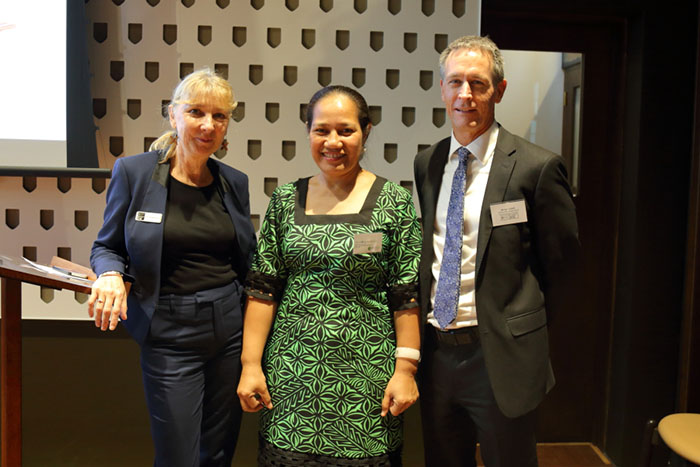 Dr Mulitalo is one of three outstanding Pacific islanders who were awarded the 2017 Greg Urwin Awards earlier this year. The Awards provided them with opportunities to develop skills, experience and networks in their fields of expertise.  Other recipients were Ms Etivina Lovo and Mr Vincent Lal.
A lawyer by profession, Dr. Mulitalo used her placement to develop Pacific focused legislative drafting guidelines  that she hopes will be used by drafters and law makers in creating relevant and suitable laws for Pacific island countries.
Dr. Mulitalo is experienced in the area of legislative drafting in her former role as Parliamentary Counsel to the Samoan Parliament. She has also developed draft model laws for Pacific countries based on international conventions and agreement and led the drafting of the Legislative Drafting Handbook for Samoa.
Prior to that Dr. Mulitalo was a lecturer in Law at the University of the South Pacific's School of Law in Vanuatu.  In June she was appointed Executive Director of the Samoa Law Reform Commission.
The Greg Urwin Awards are a joint initiative of the Australian Government, through the Pacific Leadership Program (PLP) and the Pacific Islands Forum Secretariat (PIFS).

The Awards were set up in 2008 to honour the memory of former Secretary General of PIFS and former Australian High Commissioner to Fiji, Samoa and Vanuatu, the late Mr Greg Urwin. Awardees receive financial support to undertake a three-month placement to enhance their experience and knowledge and contribute to development in the region.
A total of 24 emerging leaders from the region have completed placements under the Awards since its commencement in 2008 on issues including cancer research and palliative care, human rights advocacy, agriculture research, forensic accounting and biosecurity.