Behnaz Zarrabi never thought her interest in studying religious violence would result in a PhD about exorcism.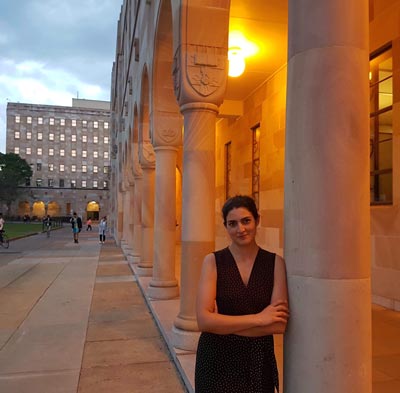 Behnaz has been researching the topic of deaths during the ritual of exorcism for the past four years. Her thesis is a socio-legal case study comprising five cases of exorcism which ended in the death of the alleged possessed individual. The cases occurred in the past 25 years in Australia, New Zealand and the United Kingdom. In her study, Behnaz examines how the legal community (e.g. judges, legal advocates and academics) interpret cases of death during exorcism, and how legal constructs, such as consent and intention, are applied to the domain of supernatural. The research is unique as it brings to attention cases of death and injury as a result of beliefs in supernatural.
Behnaz shares her insights into her experience as a PhD student, and the challenges she has faced and been able to overcome.
Still to this day I don't know how the movie, The Exorcist, ended up in the VHS collection in a girls-only high school in Iran.  For two hours, only the screams of teenage girls could be heard coming out of the media room. I only survived the first 10 minutes of The Exorcist.
My name is Behnaz - or Bernie, as most call me and I was born and raised in Iran. More than eight years ago, I moved to Australia. After a period of uncertainty, struggle and confusion about what I wanted to do with my life, I decided to do a PhD. Perhaps not the best decision when you don't know what to do with your life, but it turned out to be a pretty awesome decision for me and I'll tell you why.