For Anti-Poverty Week 2018, 14-20 October, UQ Law Students undertaking volunteer work and helping in clinics through the UQ Pro Bono Centre spoke to up-and-coming local human rights lawyers about their career journey, and how they contribute to the alleviation of poverty and injustice. 
Bachelor of Arts/Laws student Robert Natanek spoke to Paula Hughes from LawRight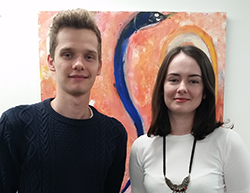 I've spent the last month or so in clinic with Paula Hughes. For Anti-Poverty week, I asked her how she came to be a human rights lawyer and how the industry has shaped her outlook on social justice. Paula has an interest in humanity and culture from travelling with her family as a child. Growing up in Townsville, she developed a particular sensitivity to the way that human rights issues disproportionately affect the indigenous community. As a student, Paula's interest in social justice was nurtured by volunteer work at QAI, QPILCH and Caxton. She commenced her working career in the government sector before joining LawRight in 2016.
Paula takes immense pride in her job as a human rights lawyer, recognising that she, along with many others who work at outreach clinics across the country, are often that final glimmer of hope for people facing crisis in their lives.
Although Paula's work is aimed at solving clients' legal problems, she knows her purpose goes much deeper than that—to help other practitioners understand that legal problems often co-occur with a whole host of non-legal problems, and that a more holistic approach to the needs of the vulnerable is paramount. Paula is an inspiration to the community and her message is an inspiring victory for social justice. 
Bachelor of Arts/Laws student Mollie O'Connor spoke to Candice Hughes from Logan Youth and Family Services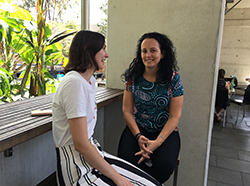 For Anti-Poverty Week I chatted to Candice Hughes, a solicitor at YFS about her experiences as a human rights lawyer. Before she became a solicitor, Candice worked for Queensland Police Service, both sworn and unsworn. This gave her invaluable experience in the enforcement side of the law, and eventually she decided she wanted to use her skills to help vulnerable people navigate the legal system. Candice has worked in the community legal sector for four years and has recently moved to YFS. Whilst Candice has never considered herself to be a human rights lawyer, she has dedicated her career to fighting for the rights of vulnerable people.
Being a human rights lawyer isn't an easy path, which Candice attested to; you deal with people at their most raw and vulnerable and have to be able to address not just legal issues, but a range of other problems clients are facing. As Candice said in her own words, "you need to wear five different hats to do our job. You can't just roll in as a solicitor".  In spite of these difficulties, Candice loves her job and her clients.
For Candice, the people are the best part of working in a community legal centre and being able to help people at their most vulnerable is what continues to drive her.
Talking to Candice was incredible for me. She is an amazing Indigenous woman who brings her passion and humour to everything she does, and it was an immense pleasure to speak with her.
Bachelor of Arts/Laws student Phoebe Kenafake spoke to Stacey Parker from the Refugee and Immigration Legal Centre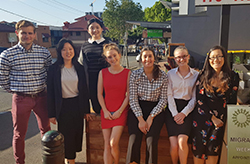 I have had the eye-opening opportunity to assist Stacey Parker with her work at the Refugee and Immigration Legal Centre (RAILS). For Anti-Poverty Week I asked about her career. Stacey became interested in social justice while studying, and aspired to become a human rights lawyer. She set things in motion by volunteering at RAILS for three years, and also undertook Clinical Legal Education with the Homeless Persons Legal Clinic at LawRight. 
Stacey began her impressive career at Corrs Chambers Westgarth, which involved a pro bono secondment at LawRight. She then managed Lawright's Mental Health Law Practice, worked as a Principal Legal Officer for the Barrett Adolescent Centre Commission of Inquiry (an inquiry into the closure of an adolescent mental health treatment facility), in London as a tax litigation lawyer and as a Child Advocate. When RAILS advertised the role of Lawyer and Pro Bono Coordinator, Stacey describes being hired eight years after first volunteering there as 'a dream come true'. 
The aspect of her work she most enjoys is contact with clients. She believes "they are generally all so grateful for any help you can offer them, and I consider it a privilege to hear their stories, however heartbreaking they are." She faces many challenges in her work, such as the heavily politicised nature of this area of the law, but is comforted by how many lawyers are out there that want to assist refugees. Her advice to students who are interested in working in social justice is to be open to any opportunity that may come along. She always knew that she wanted to work in refugee law, but it made more sense for her to make the most of opportunities elsewhere.
She believes that gaining exposure to a variety of different areas makes you a more well-rounded lawyer, and can help affirm what work you are interest in.
I have been inspired by Stacey's drive to help clients access justice and to protect some of the most vulnerable people in our society. 
Bachelor of Economics/Laws student Naa Sackey spoke to Gillian Welsh from Caxton Legal Centre
For Anti-Poverty Week I asked Gillian Welsh, a lawyer in the human rights team at Caxton about her career. Gillian has been at Caxton as a lawyer for four years. She related her experience as a human rights lawyer to her family history saying:
I come from a family full of health workers, going back generations on my mother's side, so I grew up around people who helped and cared for people all the time.
I think these role models, particularly my mother and maternal grandmother, gave me a desire for a career that had a helping/caring aspect to it.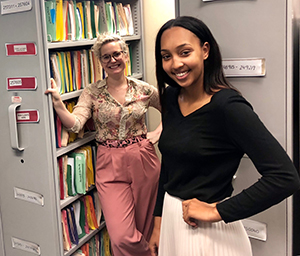 Human rights law work at Caxton lets me have that helping/caring role for people in that I am helping clients access justice or enforce their legal and human rights, which can be just as important as fulfilling health care needs, without all the bodily fluids that you might face in a health care setting. Which I consider a major plus.
Although when I was coming through university, I did not have a good understanding of how to pursue a career as a "caring lawyer". It's not that easy to work out when you're studying and not linked into the right networks of people who could give you this advice. I always felt like I really *should* be applying for vacation clerkship, even though these did not really appeal to me. Now, I often tell law students, it is ok to not apply for clerkships, they are not for everyone. I felt like a bit of a wild haired square peg at uni but it was because I did not know where to look for the right fit. I'm really glad I found it so soon after graduating in Caxton.
Human Rights Lawyer and Director of the Pro Bono Centre Bridget Burton spoke to Law Student Alex Ladd about the Human Rights Work he's been doing.
Alex is one of the hundreds of students who do human rights work during their law degree. I have worked with him on a number of projects and am impressed by his competence, humour and warmth. 
For Anti-Poverty Week I asked Alex why human rights work is important to him:
Coming from a minority background on a couple of fronts I guess I want to give a voice to people who can't do that for themselves.  I also love the way human rights law works.  You're not just a 'human rights' lawyer – it pulls lots of things (different areas of law, different types of needs) together and it's team based out of necessity.
I love working with people to find solutions. And I like that it's not all pen to paper or pen to cheque solutions – it looks at legal problems within the whole of someone's life.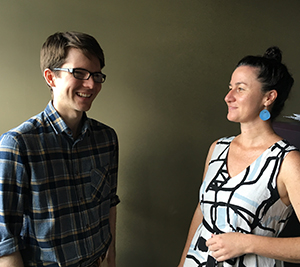 It has also helped me to find my own place in law, and in the world, and to reframe my problems in light of their possible solutions, which is a big shift for me.' 
The work is real and it's important. Whether helping clients from South Sudan or Afghanistan tell their stories in the refugee clinics, or working with clients at the LGBTI Legal Service, you need to work harder to gain trust in this field but when you do you get a genuine connection with the client and I find that extremely rewarding.
Anti-Poverty Week runs until Friday 20 October and encourages Australians to organise or take part in an activity aiming to highlight or overcome issues of poverty and hardship here in Australia or overseas. 
Contact: UQ Pro Bono Centre, probono@law.uq.edu.au