Despite sleeping through most of his classes, Kirby Bell was an im-paw-tant guest at The University of Queensland's December graduation ceremonies.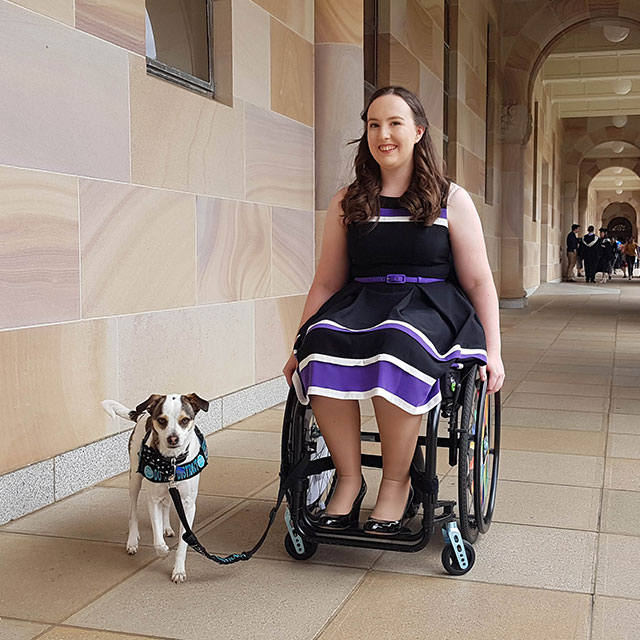 The four-year-old terrier cross had a job to do – assisting owner Brianna Bell as she graduated from the Bachelor of Laws (Honours) program.
It was a task he was well-prepared for. As an assistance dog, Kirby has provided vital support to Ms Bell throughout most of her studies.
"I'm graduating after six years of study at UQ – and I've been able to do that because I've had Kirby at my side for most of it," she said.
"He's really made it possible for me to get to the end of my degree."
The pawfect graduation guest from The University of Queensland on Vimeo.
Ms Bell has Ehlers-Danlos syndrome, a disorder that affects the connective tissue, joints and circulatory system.
Kirby helps her with many tasks, including ensuring people don't crowd her, picking up objects for her and opening doors.
"Kirby does deep pressure therapy – what he's doing when he looks like he's napping. Basically, he lies across my lap and confuses the pain signals that the nerves would be sending up to my brain, which helps me concentrate in class," she said.
"He tells me when my heart is about to stop working, which means that I can stop what I'm doing, get down on the floor and prevent head injuries or lessen the impact of the episode."
Ms Bell worked with experts to train Kirby to qualify as a licensed assistance dog, balancing the task with her honours studies.
She has used the experience to help educate people about how to interact with service animals, running a twitter account and writing articles.
"If you see an assistance dog out and about working, the best rule of thumb is don't do anything," Ms Bell said.
"Don't distract them. That means no touching, no feeding, don't make kissing noises or try and make eye contact with them.
"Trying to attract an assistance dog's attention not only distracts them from their work, which is the most important and immediate thing, but it can also be a really expensive mistake for the handler because sometimes things that people do disrupt the dog's training and the handler has to go back and correct it."
Kirby did not have to do any special training for graduation, but he clearly enjoyed the occasion.
"Kirby has a bigger ego than he can jump over," Ms Bell said.
"He thinks the whole ceremony is all about him achieving his university degree and everybody is clapping for him."
You can keep up with Kirby's adventures via twitter @KirbytheAD.
Media: Katie Rowney, Katie.rowney@uq.edu.au, +61 7 3365 3439.
High-res media footage is available for media on request.