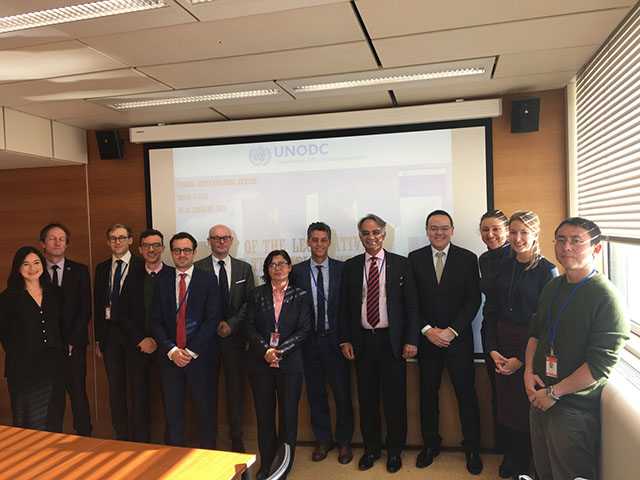 A team of University of Queensland staff and students have taken the next step in their project on trafficking in persons, following a presentation to a group of international experts at the United Nations Office in Vienna, Austria.
Led by UQ Law professor Dr Andreas Schloenhardt, a leading expert on trafficking in persons and smuggling of migrants, the team is working on a six month project commissioned by the UN Office on Drugs and Crime to revise the Legislative Guide for the Implementation of the Protocol to Prevent, Suppress and Punish Trafficking in Persons.
"This guide helps parties to the protocol to understand the provisions of this international treaty and shed light into the challenges associated with anti-trafficking efforts," Dr Schloenhardt said.
"Many countries still have poorly developed anti-trafficking laws and often punish victims rather than perpetrators."
UQ Law Associate Lecturer and guide co-author Dr Joseph Lelliott the legislative guide was an important tool to improve national anti-trafficking laws worldwide.
"Numerous countries merely focus on criminalisation of trafficking and neglect to protect victims and take steps to prevent this crime," he said.
Law and Arts student Jack Fuller, who is assisting in the project, said it was "an exciting and challenging experience to have our work discussed by global experts and representatives from around the world."
The project is further assisted by UQ law graduate Colin Craig, who has worked for UNODC and presently studies a Masters of International Law at the University of Leiden in The Netherlands.
The final version of the legislative guide will be published in mid-2019.
Media: Dr Andreas Schloenhardt, a.schloenhardt@uq.edu.au; or law communications, Katie Rowney, media@law.uq.edu.au or +61 7 3443 1321.