In 2020, more than 40 University of Queensland law students participated in mooting and legal skills competitions, demonstrating outstanding levels of commitment and resilience in a year marked by COVID-19 disruptions.
Capping off what had been another successful year for UQ's mooting program, coaches, mentors and teammates celebrated in person at the ninth annual David Jackson Mooting Dinner. The event was a welcome reunion for the tight-knit community after months of separation.
Each year, three coveted internal UQ prizes are awarded at the dinner: The Bar Association of Queensland Best Oralist in a Moot Competition, The Queensland Law Society Best Moot Team Award and The David Jackson Trophy for Outstanding Advocacy.
The night also provides all competitors with a chance to reflect on the year's finalists and awardees in various national and international competitions.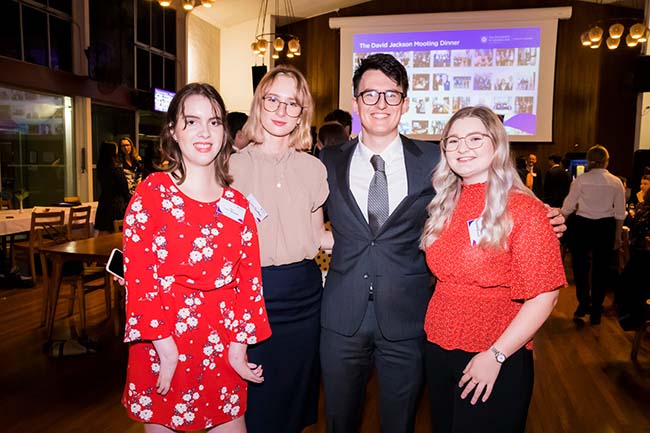 Academic Dean and Head of School Professor Patrick Parkinson said students, parents, staff, coaches and judges had much to celebrate when looking back on mooting in 2020.
"The outcomes achieved by both students and their coaches this year have been extraordinary given the difficulties involved," Professor Parkinson said.
"With many competitions moved online because of the pandemic, students were able to adapt very well to online advocacy and still maintain the competitive edge that we're accustomed to seeing at UQ.
"For the Vis Arbitration Moot team, that meant sometimes mooting into the early hours of the morning to participate in a competition run in Europe.
"I believe that it was the community that our program fosters that has supported our students through this transition – and for that, I congratulate and thank all those involved."
Director of Mooting Genevieve Murray also shared this sentiment.
"UQ is privileged to boast not only some of the top competitors in the world but also an army of generous and creative students who give endlessly in their role as coaches, mentors, judges and innovators of new and unique competition experiences," Ms Murray said.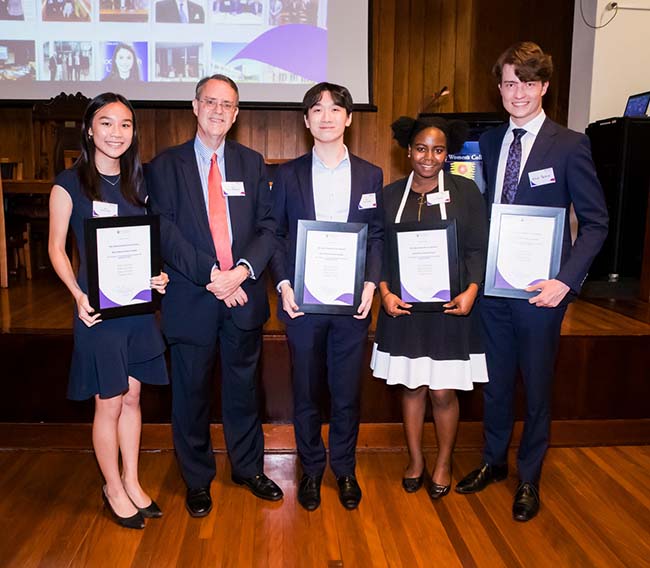 The Queensland Law Society Best Moot Team Award was presented to the Willem C Vis International Commercial Arbitration Moot (Vis Moot) team, consisting of Carmen Zhu, Johnson Choi, Elliot Perkins and Paivi Adeniyi.
"The 2020 mooting season has been one of the most challenging, but also one of the most rewarding," Miss Adeniyi said.
"Despite cancelled flights, socially distanced rounds and endless technical glitches, these difficulties undoubtedly made us all better advocates.
"We are incredibly grateful to receive this award, especially given the exceptional quality of other UQ moot teams and the trying circumstances we all faced.
"We extend thanks to our coaches, Emily and Jack, and to the UQ mooting community for its constant support."
The Vis Moot team was lauded for their efforts earlier in the year – placing equal third in the competition from a total of 260 teams.
This impressive result was the best for UQ in the oral rounds since winning in 2000 and placing second in 2002.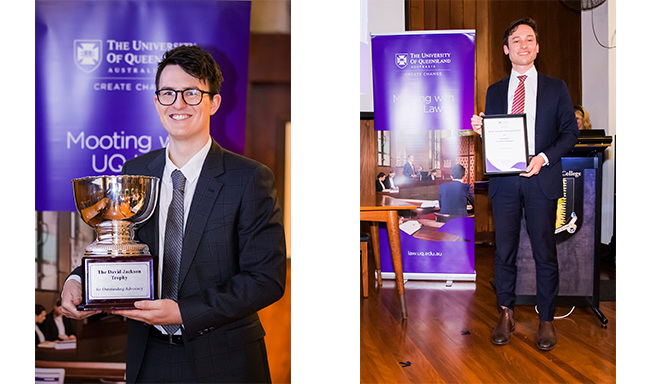 The David Jackson Trophy for Outstanding Advocacy was awarded to Jack Donnelly, who in addition to ably representing UQ in international competition himself, also has an outstanding record as a coach.
In 2020, Jack had great success with teams in both the Deakin International Commercial Arbitration Competition and the Willem C Vis International Commercial Arbitration Moot.
A standing ovation greeted Jack as he accepted the award on stage – a testament to the impact he has had on the mooting community.
"The spirit that underlies the mooting program at UQ is one of intellectual integrity, tireless dedication to the task, courtesy and good sportsmanship. I am proud to have been able to participate in a program so rich in character." - Jonathan Hohl, Best Oralist in a Moot Competition.
Winner of The Bar Association of Queensland Best Oralist in a Moot Competition Jonathan Hohl recalled his early days of mooting and what this win meant to him.
"I first entered a moot competition at UQ in 2015, and I have been continuously involved in the mooting program in various capacities ever since," Mr Hohl said.
"The choice to maintain my involvement each year has been an especially easy one to make.
"There is an abundance of opportunities on offer at UQ and improvement as an advocate is a project without end.
"It was particularly humbling to have my efforts in this year's Jessup competition rewarded at the David Jackson dinner.
"I could never have imagined that I would one day be in this position, and I am exceptionally grateful to the many, many people who have helped me to this point."
Closing on the night that celebrated a year in review, it's clear to see that UQ's mooting legacy stands tall – while the community involved is as strong as ever.
 
Media: BEL Communications, media@bel.uq.edu.au, +61 7 3346 9349