Giving to the UQ Pro Bono Centre
Support access to justice for the most disadvantaged members of our community
There is persistent unmet legal need in our community, and disadvantaged people often experience multiple and substantial legal problems. Here in Queensland, there are thousands of individuals who experience poverty, housing stress or unemployment, and who may have poor mental health and disabilities. Without a timely legal intervention these problems can compound and become more serious.
The UQ Pro Bono Centre partners with lawyers and organisations that work pro bono – for the public good – to develop structured, transformational learning experiences for law students to play a role in the provision of free legal assistance to those in need.
Donate
Our ability to offer these experiences is reliant on funding through sponsorship and public donations. UQ Pro Bono Centre supporters can take pride in knowing they make a real difference in furthering access to justice for some of the most disadvantaged members of our community, and are helping to build a stronger pro bono culture among future generations of legal practitioners.
Give to the UQ Pro Bono Centre
Sponsorship opportunities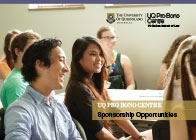 You or your organisation can sponsor individual legal education clinics. 
Sponsorship packages are also available for our annual awards night where your organisation will receive promotion in return.
Download the UQ Pro Bono Centre Sponsorship Opportunities brochure (PDF, 932KB) to find out more.