About Jodi Palmer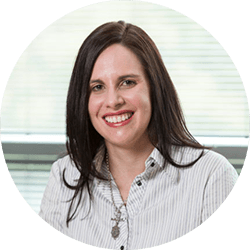 Jodi Palmer is a UQ Law alumnus who graduated in 2002 with a Bachelor of Laws and a Bachelor of Science (Psychology). After clerkships with McCullough Robertson, Freehills and Mallesons, she worked in a mid-sized firm, before moving to a large firm where she became a Senior Associate, working in commercial litigation and insolvency. After five years she moved back to a mid-tier firm, before being sent on a secondment which would change the direction of her career entirely. After a year on secondment, Jodi joined the BMD Group in 2011 as Senior Legal Counsel and in 2014 was made the company's first General Counsel.
It turned out that all of the seemingly unrelated steps of her career to date had been preparing her for this very role. She has found her niche in the in-house world and enjoys being part of a business, helping to increase business success via legal understanding and compliance.
While she had some disappointments with missing out on roles early in her career, Jodi has discovered that no time is ever wasted. Each step in her career has taught her different legal and business, not to mention interpersonal, skills, that have enabled her to achieve success in the in-house world. In August 2019 she will join Volvo Group Australia as Vice President Legal and Compliance, and is looking forward to the challenge of new industries.
In her time away from her full-time work, Jodi is kept busy by the balancing act with two young daughters, trying to live a sustainable life, and cooking.
Join Jodi on Tuesday 6 August at 10.15am at The Deck Cafe for conversation and coffee.
Learn more about Jodi on LinkedIn or at BDM.
What you'll get out of this session
Find out what it's like to work in-house, in top-tier and mid-tier firms
Hear how Jodi achieves a balance between work, family and living sustainably
Discover the different career pathways available to law students 
Ask questions and build your professional network with a key industry professional
Free coffee!
Important information
Places at any Coffee Conversation are limited, so please do not register for the event unless you are definitely going to attend, otherwise you are taking up someone else's spot. 
About Coffee Conversations Series
Coffee Conversations is a series of great monthly guests working in the law and other related fields sharing their stories with you. They are an informal and relaxed opportunity to converse with professionals who have had interesting lives and careers.
Regardless of what you do beyond university, good conversational skills are critical to learning, generating opportunities, and social fluency. Conversations are integral to effective communication, to relationships and to the exchange of thoughts and ideas. Through conversations, we collaborate, resolve conflict, and create new possibilities.
So come along for a free cup of coffee to meet wonderful people and practice your conversational skills with them and each other. Note - Coffee Conversations are not presentations.  Students are expected to show interest and be curious, actively listen, and respect others.  
Stay tuned for news of the conversation guests, and monthly dates.
Venue
The Deck Cafe
UQ Sports & Fitness Centre
The University of Queensland
St Lucia campus