About Dylan McKimmie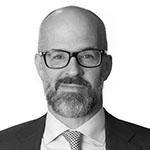 Dylan is a partner at international law firm Norton Rose Fulbright, as well as the Chair of the Board for the Mental Health Law Centre (WA) Inc, the largest community legal centre in Western Australia.  Having started his career in Brisbane at a small 3 person law firm, Dylan now works across his firm's Brisbane and Perth offices, practising in international arbitration and litigation, predominantly for clients in the energy and oil and gas sectors. He also conducts regulatory cases in the Federal Court, acting for and against Commonwealth regulators.
After growing up in a socially activist family in pre-Fitzgerald Inquiry Brisbane in the 1970s and 1980s, Dylan is passionate about the role lawyers can play in protecting the rule of law as a fundamental linchpin of an organised society. To this end, last year he acted on a pro bono basis for the successful appellant in the High Court in Rodi v State of Western Australia.
Over the course of his career, Dylan has seen the private practice legal sector from nearly all perspectives. He is now a member of his firm's national Partnership Council, and serves on his firm's Corporate Social Responsibility committee.  Away from work, Dylan is kept busy by his four kids and a recently discovered passion for boxing.
Dylan McKimmie's profile at Norton Rose Fulbright
What you'll get out of this session
Hear from a law professional practising international arbitration and litigation
Learn about the role lawyers play in protecting the rule of law
Discover the different career pathways available to law students 
Ask questions and build your professional network with a key industry professional
Free coffee/chai or hot beverage of choice.