Timestamps:
1:24 | What does an entertainment finance lawyer do?
3:24 | What are the contrasts between boutique and international firms?
9:05 | How does our industry differ to those internationally?
11:02 | What would you like to see change in the sector? (very interesting)
26:19 | Any final advice for students?
About the speaker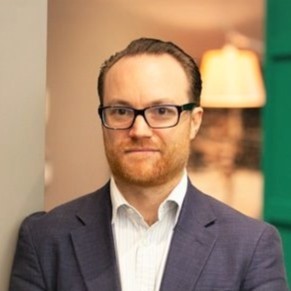 Ted Cawrey is an entertainment finance lawyer and runs the Brisbane office of the boutique law firm Blueprint Law. Blueprint Law focusses on the media, tech and entertainment sectors and was established in Sydney 15 years ago. 
Ted has 15 years of experience working on the banking, regulatory, tax and contract law issues in this niche area, and has spent the last three years continuing this line of work at Blueprint Law.
Before commencing his current role, Ted developed his legal skills for more than eight years at the leading private practice for entertainment work in London, Olswang (now part of CMS). He was subsequently head-hunted to work in (and eventually lead) a team of 18 in-house lawyers at a boutique media and entertainment investment house, Ingenious Capital Management, during which he worked on over 100 productions for film and television.
Ted left Ingenious to move to Australia in 2016.
Ted has worked on films such as The Dressmaker, Slumdog Millionaire, Storm Boy, Dirt Music, Adrift, Danger Close and Selma.  He advises, and negotiates with, producers, studios and a large number of other businesses that all have a role to play in producing audio-visual works.  His career journey from private practice to in-house, then re-qualifying in Australia to return to private practice, has maintained a focus on the entertainment industry because he's passionate about what his clients create, and how they go about 'making the magic' - often in challenging, sometimes near-impossible, circumstances. 
He can also share his experiences about the difference between being a legal advisor and a business advisor; and how taking up a role on the board of the Gold Coast Film Festival has brought a fresh perspective to the advice he gives, and the way he runs his practice.
View LinkedIn: https://www.linkedin.com/in/tedcawrey/
About The Witness Box
The Witness Box is an online series where UQ Law students interview noteworthy guests working in the profession. Released weekly and housed online 24/7, this series offers students, staff, alumni and professionals an opportunity to explore several organisations and specialties within the profession. Student interviewers also have the chance to establish a connection with their interviewees.
Whether you're staff, a student or the public, we're always looking for questions to ask in this series, so dive into the upcoming schedule below, and be sure to submit your questions online.
Plus, if you're a UQ Law student and want to delve deeper than each guest's area of expertise, the challenges their industry faces and the available career paths, register your interest to become a student interviewer today. You will no doubt develop your soft skills and create great connections.