Milan Gandhi, Founder and National Director of The Legal Forecast
About the speaker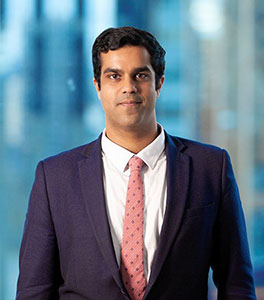 Milan is the Founder and a National Director of The Legal Forecast, a national not-for-profit run by entrepreneurially-minded early-career professionals who, among other objectives, promote the role of innovation in enhancing access to justice and legal services.  The Legal Forecast was the Law Council of Australia's 2019 Young Lawyer Organisation of the Year.  Milan graduated with First Class Honours in law from the University of Queensland in 2017 and won the Australian Law Student of the Year award in the same year. 
Milan worked for McCullough Robertson Lawyers for six and a half years, firstly as a clerk, and then as a lawyer in the firm's construction litigation team (both in the Brisbane and Sydney offices). Milan was also the firm's inaugural innovation ambassador.  Earlier this year, Milan moved outside of private legal practice to take a unique opportunity with DMTC (formerly the 'Defence Materials Technology Centre') where Milan's dual-role is focused on innovation and strategy, and on aspects of in-house legal work. DMTC collaborates with defence industry participants and research institutions to deliver innovation that enhances Australia's defence and national security capabilities.
About The Witness Box
The Witness Box is an online series where UQ Law students interview noteworthy guests working in the profession. Released weekly and housed online 24/7, this series offers students, staff, alumni and professionals an opportunity to explore several organisations and specialties within the profession. Student interviewers also have the chance to establish a connection with their interviewees.
Whether you're staff, a student or the public, we're always looking for questions to ask in this series, so dive into the upcoming schedule below, and be sure to submit your questions online.
Plus, if you're a UQ Law student and want to delve deeper than each guest's area of expertise, the challenges their industry faces and the available career paths, register your interest to become a student interviewer today. You will no doubt develop your soft skills and create great connections.