University of Queensland researchers, government representatives and delegations from six Pacific Island states recently met to discuss the implementation of the Pacific Islands Regional Marine Spill Contingency Plan (PACPLAN).
The workshop was convened and facilitated by the TC Beirne School of Law's Marine and Shipping Law Unit on behalf of, and in conjunction with, the Australian Maritime Safety Authority (AMSA).
MASLU Director Professor Craig Forrest said the PACPLAN workshop involved representatives from Papua New Guinea, Solomon Islands, Vanuatu, Tuvalu, Nauru and Kiribati.
"Marine pollution of any scale, whether it be plastic, rubbish or oil have an enormous impact on the environment," he said.
"The PACPLAN takes those countries who have the capacity to deal with marine pollution issues and marries them up with Pacific neighbours that may need support in the event of an oil spill."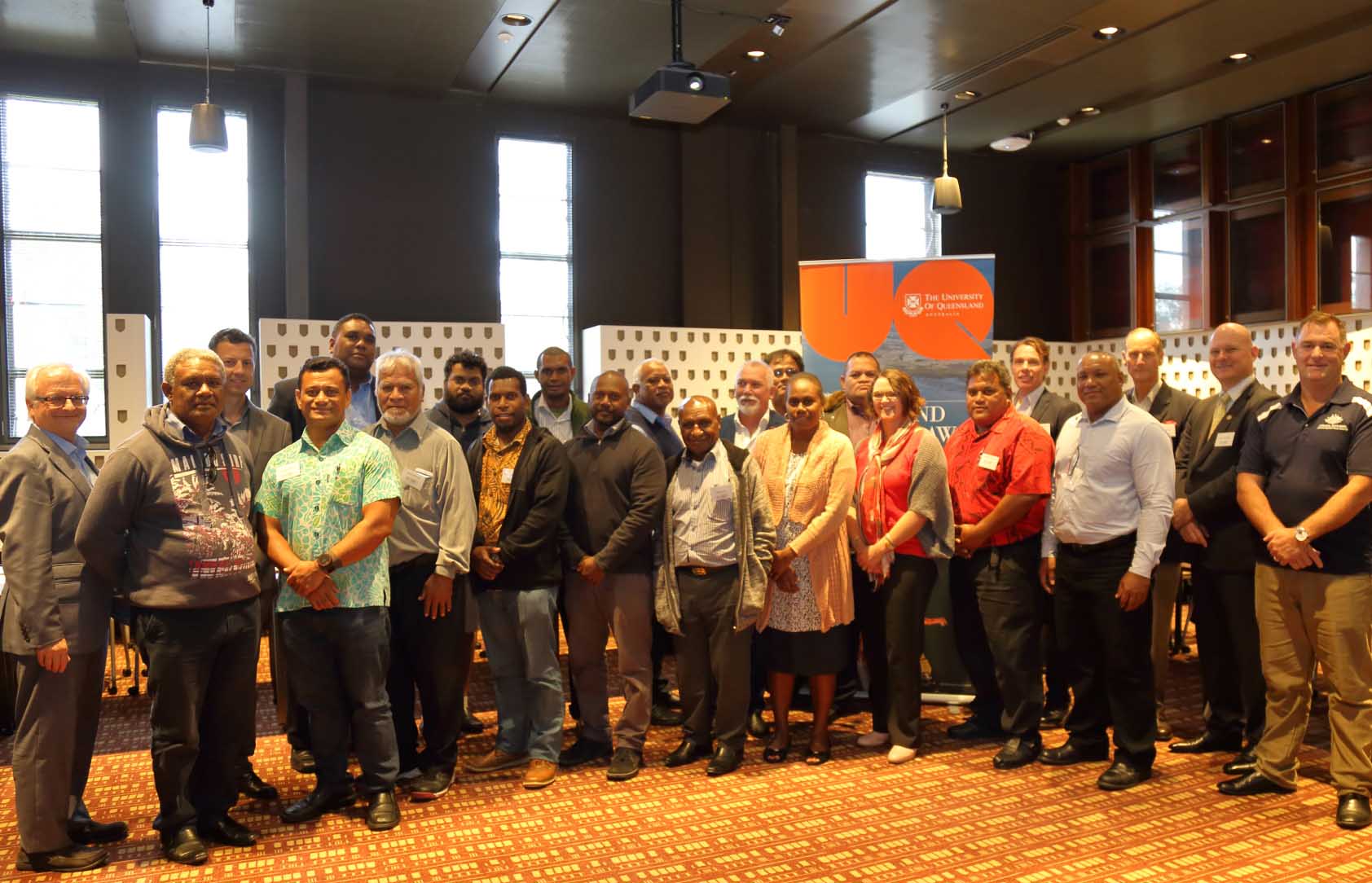 The two-day workshop covered topics such as understanding the support and needs required for the Pacific nations in the event of an oil spill, international maritime conventions, the role of AMSA in the PACPLAN, as well as strategic response training required at local and regional levels.
The Secretariat of the Pacific Regional Environment Programme, in partnership with the International Maritime Organization, has responsibility for implementation of the Pacific Ocean Pollution Prevention Program (PACPOL), which is the primary mechanism for a number of Pacific Island States to seek assistance from Australia in the event of a marine pollution incident.
Professor Nick Gaskell, one of the workshop convenors and MASLU researcher, said most pollution incidents occurred in coastal waters subject to territorial jurisdictions.
"While the majority of incidents are usually within 12 miles of shores, the conventions now usually extend to a State's Exclusive Economic Zone (EEZ) of 200 miles," he said.
"Beyond that, on the high seas, the ability to recover compensation for pollution is more difficult.
"It's great to be able to provide support and information to developing states who often do not have the trained personnel and resources, to deal with major pollution incidents.
"We are happy to assist the Australian Government—particularly through AMSA—in its role in providing assistance to regional island states."
Professor Gaskell's research focuses on issues concerning compensation for marine pollution casualties, in particular those involving pollution such as cargoes of oil or from hazardous and noxious substances. 
MASLU's Dr Michael White OAM QC also contributed to the coordination of the workshop.
MASLU also hosted the PACPLAN workshop in September 2016 with representatives from Solomon Islands, Vanuatu, Nauru, Tuvalu, Kiribati and Australia.
Find out more about MASLU's projects
Media: Professor Craig Forrest, c.forrest@law.uq.edu.au, +61 7 3346 9027; or media@law.uq.edu.au or +61 7 3365 5296.
About MASLU events
The Marine & Shipping Law Unit (MASLU) is a community of scholars within the TC Beirne School of Law at The University of Queensland. We aim to achieve international recognition for scholarship, research and consultative skills in maritime law, international law of the sea, and related areas.