The Territory of Marriage: Constitutional law, marriage law and family policy in the ACT Same Sex Marriage Case
19 March 2014

5:30pm

–

7:00pm
Topic: In Commonwealth v Australian Capital Territory [2013] HCA 55 (12 December 2013) the High Court unanimously held that the whole of the Marriage Equality (Same Sex) Act 2013 (ACT) was inconsistent with the Marriage Act 1961 (Cth) within the meaning of s 28(1) of the Australian Capital Territory (Self-Government) Act 1988 (Cth). The result was that the provision for same sex marriage enacted by the Legislature of the Australian Capital Territory was of no effect. In the course of its reasoning, the Court considered the scope of the Commonwealth Parliament's power to legislate with respect to marriage pursuant to s 51(xxi) of the Constitution and stated that marriage is a consensual union formed between natural persons in accordance with legally prescribed requirements which is not only a union the law recognises as intended to endure and be terminable only in accordance with law but also a union to which the law accords a status affecting and defining mutual rights and obligations.
Speaker: Professor Patrick Parkinson AM, Sydney Law School
Patrick Parkinson is a Professor of Law at the University of Sydney and a specialist in family law, child protection and the law of equity and trusts. He is President of the International Society of Family Law. His books include Tradition and Change in Australian Law (5th ed, 2013), Australian Family Law in Context (5th ed, 2012), Family Law and the Indissolubility of Parenthood (2011), The Voice of a Child in Family Law Disputes (with Judy Cashmore, 2008), Child Sexual Abuse and the Churches (2nd ed, 2003) and Principles of Equity (editor, 2nd ed., 2003).
Commentator: Walter Sofronoff QC, Solicitor-General of Queensland
Walter Sofronoff is the Solicitor-General of Queensland. He has served as President of the Bar Association of Queensland (1994-1996) and President of the Queensland Anti-Discrimination Tribunal (2001-2005). He is a graduate of the University of Queensland (BA/LLB) and was Silk-in-Residence at the TC Beirne School of Law in 2013. Mr Sofronoff is also an occasional lecturer at Queensland Law Society Continuing Legal Education Program and at the Bar Association of Queensland Advanced Legal Education Program. He has appeared in the Supreme Court, Family Court, Federal Court and High Court of Australia.
Registration Fees: Registration is free for members of the Australian Association of Constitutional Law (AACL).
Registration is $20 for non members. No refunds will be issued for cancellations after Friday, 14 March 2014.
Click here to find out more about membership of the AACL.
CPD Points: The series has been accredited for CPD purposes by the Queensland Bar Association (Code: COLSCL). Participants will accrue 1 CPD point per hour of attendance in the non-allocated strand unless otherwise advised.
About Current Constitutional Controversies - Occasional Colloquium Series
This series is a joint initiative of: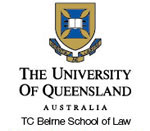 Current Constitutional Controversies is a high-profile colloquium series dedicated to timely and incisive discussion of the most important constitutional cases decided by the High Court each year, and other topical questions of constitutional law.
The series, presented by UQ's TC Beirne School of Law and the Queensland Chapter of the Australian Association of Constitutional Law, provides a forum for leading scholars, practitioners and members of the judiciary to analyse and discuss current constitutional issues.
Attendance
Attendance is on a RSVP basis and restricted to numbers appropriate to a colloquium format. 
Papers
Due to the informal nature of the event, speakers will not necessarily prepare written papers. If a paper is written for distribution it will be made available through this website. A hard copy will not be provided at the colloquium itself.
Venue
Queen Elizabeth II Courts of Law,
415 George Street, Brisbane
Room:
Library Conference Room, Level 12