A good measure of the strength of the rule of law and independence of the judiciary of a society is how the poor, those on the fringe of society, immigrants and refugees are treated before the law. For very practical reasons, Hong Kong, though a diverse, international city with a strong immigrant history, adopts a strict, stringent immigration policy, particularly in the face of very substantial numbers of illegal immigrants and torture claimants. Nonetheless, the Hong Kong courts have always dealt with the many legal challenges by unsuccessful immigrants and those liable to be deported with great care. 
This talk will examine how the Hong Kong courts have grappled in recent years with the many complicated legal issues concerning the Basic Law as well as international instruments such as the International Covenant on Civil and Political Rights, the International Covenant on Economic, Social and Cultural Rights, the Convention on the Rights of the Child and the Convention Against Torture, raised in these cases. The talk will also touch on the interesting question of whether the right to raise a family guaranteed under article 37 of the Basic Law includes the right to be raised, or more precisely, the right to be raised in Hong Kong, in the context of immigration.
The Honourable Mr Justice Andrew Cheung, Chief Judge of the High Court, Hong Kong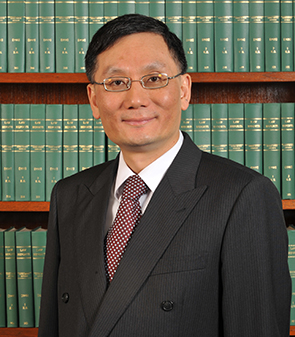 Mr Justice Cheung read law at the University of Hong Kong, graduating with a Bachelor of Laws in 1983 and a Postgraduate Certificate in Laws in 1984. In 1985, he obtained a Master of Laws from Harvard Law School. He was called to the Hong Kong Bar in the same year, and in 1995 he was admitted as an advocate and solicitor of the Supreme Court of Singapore. 
Mr Justice Cheung was in private practice in Hong Kong before joining the Judiciary as a District Judge in June 2001. He started deputising as a Deputy High Court Judge in December 2001 and was appointed a Judge of the Court of First Instance of the High Court in 2003. Mr Justice Cheung was made the Probate Judge in 2004 and the Judge in charge of the Constitutional and Administrative Law List in 2008. 
In 2011, Mr Justice Cheung was appointed the Chief Judge of the High Court and became the President of the Court of Appeal of the High Court.
On 21 March 2018, the Chief Executive announced she had accepted the recommendation of the Judicial Officers Recommendation Commission on the appointment of Mr Justice Cheung as a permanent judge of the Court of Final Appeal with effect from 25 October 2018. Subject to the endorsement of the Legislative Council, the Chief Executive will make the appointment under Article 88 of the Basic Law. Mr Justice Cheung is a member of the Judicial Officers Recommendation Commission. He also chairs or is a member of various committees and working parties within the Judiciary. 
Mr Justice Cheung is an Honorary Bencher of Lincoln's Inn.
Please register to attend.
Venue
Sir Harry Gibbs Moot Court (W247)
Level 2, West Wing Forgan Smith Building
The University of Queensland, St Lucia