The Centre's mission is to be a nationally recognised leader in the development, promotion and provision of student pro bono legal services. Through our work, we will inspire students to understand the value and importance of access to justice, and to graduate from law school with a lifelong professional commitment to pro bono legal service.
The Director and the Advisory Board report to the Dean of the TC Beirne School of Law.
The Centre's Patron is the Honourable Justice Peter Applegarth, Justice of the Supreme Court of Queensland. The Chair of the Centre's Advisory Board is UQ Adjunct Professor and Clayton Utz Partner, Randal Dennings. The Centre Director is Monica Taylor. Academic members of the Centre include Associate Professor Tamara Walsh, Dr Peter Billings and Dr Francesca Bartlett.
Advisory Board
The UQ Pro Bono Centre has an Advisory Board which meets twice a year to review the Centre's pro bono activities and to advise the Centre on its strategic partnership with the legal profession.
The Advisory Board of the Centre is comprised of:
Director (or nominee) of Queensland Public Interest Law Clearing House Incorporated (QPILCH).
Director (or nominee) of Caxton Legal Centre Inc.
Director (or nominee) of Queensland Association of Independent Legal Services (QAILS).
Director (or nominee) of Legal Aid Queensland.
President (or nominee) of the Queensland Law Society.
President or nominee of the Queensland Bar Association.
Two members of the legal profession nominated by the Head of School, TC Beirne School of Law.
One nominee of the Centre's Student Advisory Panel.
Student Advisory Panel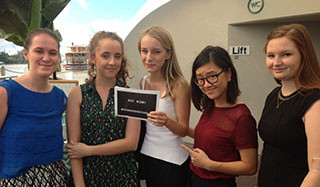 The Student Advisory Panel is comprised of five students drawn from the pro bono roster. Student Advisory Panel lists:
Provide advice and feedback to the Centre Director on pro bono activities;
An 'ideas bank' for new and innovative pro bono activities;
From time to time, assist the Centre Director with administrative tasks.
The Student Advisory Panel meets with the Centre Director every 6 weeks, or otherwise as agreed.
Constitution
View the UQ Pro Bono Centre Constitution
Strategic Plan