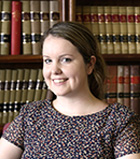 One pro bono experience led to the next and before long, final year Bachelor of Arts/Bachelor of Laws student Juliet Walker had taken on a range of projects through the UQ Pro Bono Centre.
Juliet said she learnt something different from each experience and enjoyed the variety of work.
She worked at the QPILCH Mental Health Law Clinic for her Clinical Legal Education Program placement; did an internship for Queensland Advocacy Incorporated; assisted with research to update a handbook to support the legal capacity of older people; updated a report on prisoners and debt for the Manning St Project; and volunteered in the office at Caxton Legal Centre.
Juliet said one of the most valuable pro bono experiences was observing how qualified lawyers interacted and engaged with clients.
"For example, at Caxton Legal Centre, I was able to sit on an evening family law appointment and got a lot out of watching the lawyer give advice," she said.
She said one of her most memorable experiences was as an advocate for the QPILCH Mental Health Review Tribunal Volunteer Advocacy Service.
"It was really hands-on," she said. "The client had a number of support people in different capacities and before the tribunal all the support people met."

"It was at that moment I realised I had the knowledge and skills to contribute to a positive outcome for the client and was able to bring clarity to an otherwise stressful situation."
Juliet said her experiences with the UQ Pro Bono Centre cemented her interest in being involved in community legal centres in the future.
"There's a plethora of legal work out there that can assist the community and it's helped me to clarify that my future interests will be focussed on case work and working direct with clients."

"I'd say to any student considering working with the UQ Pro Bono Centre to get involved as much as you can – there's a huge range of opportunities available and each experience allows you to learn more about yourself and the particular community legal centre."
Bachelor of Arts/Laws, 2014
More about undergraduate law Join the pro bono roster