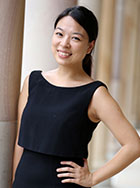 Final year Bachelor of Laws student Zoe Chan said her only regret about getting involved with the UQ Pro Bono Centre was that she didn't start earlier. In her final year of study however, she's made up for lost time, having been involved in four projects through the centre this year. 
Zoe provided legal support to the bequest officer at the Royal Flying Doctor Service (RFDS) around wills and estates where the RFDS was a beneficiary.
"Keeping on top of bequests and monitoring the administration of deceased estates is extremely important for an organisation like RFDS, which is reliant on donations," Zoe said.
Zoe also convened the Asylum and Refugee Law Project in 2014 and undertook a clinical education placement through the Refugee and Immigration Legal Service.
There were a number of reasons why Zoe decided to get involved with the UQ Pro Bono Centre.
"I've always been interested in social justice and wanted to use my skills to contribute to the community in some way," she said. 

"Also at uni, it's easy to be focussed solely on theory and academia. While this is important, pro bono work contextualises this learning in a practical environment."

"I've also learnt about how even the less interesting parts of law can have a profound impact on people individually and are so important."
She said the pro bono work has reinforced her view that the lawyer's role is key to upholding the integrity of society.
"There are so many ways to support social justice in the community during your career no matter what area of law you practice – and pro bono work is a part of that."
RFDS Bequest Officer Louise McLaren said.
"Zoe has been a godsend. Her professionalism and drive have been very well received and very much appreciated here at the Royal Flying Doctor Service."

"Zoe has gone over and above [what was required of her]…  I hope that Zoe has found her work both interesting and fulfilling in the knowledge that she is helping to take the finest care to the furthest corner of Queensland."