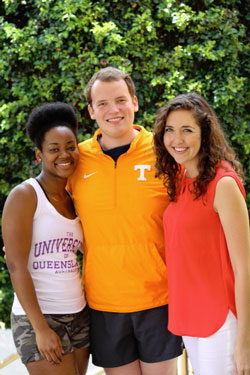 Over the Christmas break, law students from The University of Queensland and The University of Tennessee learned how to lead, teaming up for a new short course offered by UQ law.  
The inaugural offering of the Leading as Lawyers: Trans-Pacific Perspectives course introduced students to basic leadership principles and the value of service through the lens of lawyers.
Students had the opportunity to discuss subtleties in styles and approaches within the two legal systems on either side of the Pacific.
As it was a residential course, students from both universities stayed at Emmanuel College on the UQ campus.
While the course involved in-class time and individual meetings with instructors, the extracurricular cultural activities and excursions were a highlight for the international students.
Positive feedback from the visiting students illustrated the value of this innovative course.
Racquel Martin said the experience was eye-opening.
"I discovered a lot about myself and my classmates – the future leaders of the American and Australian legal professions.
"I learned the importance of being honest with myself, knowing who I am and who I want to be and determining how my strengths, weaknesses and personality traits affect my interactions with others.
"These are only a few of the lessons that enriched my personal development as a future leader in the law.
"What I'll likely never be able to fully articulate, and what I most appreciate, are the lasting relationships I formed with 14 amazing men and women who ensured that I had the most enlightening and fulfilling experience of my law school career. I can't thank them enough!"
Hannah Hunt, another University of Tennessee student, said the course was "by far" the most important one she would take during her studies.  
"While classes and the daily routine of law school can sometimes feel rote, engaging in a seminar setting in Leading as Lawyers – with a different country as the backdrop – has personalised my legal education in ways I could never have imagined," she said.
"My peers and professors have challenged me to seriously contemplate both the type of lawyer and person I want to be and how I can harness the power of positivity, leadership, and beyond to better myself, the profession, and my community. 
"This is the type of program I will give to in the future as an alumna. It singlehandedly lent meaning to my entire law school career and will continue to inform and inspire my work as a lawyer for many years to come."