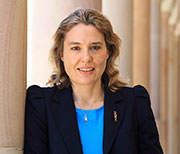 UQ Law RHD Candidate Laura Guttuso has been selected as one of the two recipients of the American Bar Association (ABA) Section of Antitrust Law International Scholar-in-Residence program for 2016. This prestigious scholarship awards $10,000 USD for support of research in the field of antitrust/competition law undertaken in the United States, with applications from PhD researchers and junior faculty members received from all around the world.
Laura started her legal career working as an Associate and Senior Associate at Herbert Smith Freehills in London, specialising in EU and UK competition law. She subsequently moved to the UK competition authority, where she performed a number of roles, notably, Senior Legal and Policy Adviser, Team Leader in the Cartels Group, and, more recently, Assistant-Director in the General Counsel's Office.
Laura holds a BSc (Economics) degree from the London School of Economics, and a law degree from Wolfson College, Cambridge University. In 2013, she obtained First Class Honours in her LLM from the University of Auckland, New Zealand, for her research on the treatment of leniency materials in competition litigation proceedings. Her current PhD research project is entitled 'In pursuit of cartels: a critical analysis of the dynamics between public and private enforcement'. Laura also recently received the 2015 Owen Fletcher Publication Award for her book chapter 'Leniency and the Two Faces of Janus: Where Public and Private Enforcement Merge and Converge' in Caron Beaton-Wells' and Christopher Tran's book edition Anti-Cartel Enforcement in a Contemporary Age: The Leniency Religion (Hart Publishing, 2015).
Laura has applied to the Georgetown University School of Law's Visiting Researcher Program, with the help of this scholarship award, and also intends to spend time at the Chicago Loyola Institute for Consumer Antitrust Studies. During her visit, Laura proposes to study the interplay between criminal and private cartel proceedings in the US in more detail.
Laura said, "I am grateful to the TC Beirne School of Law, particularly, to my supervisor, Professor Kit Barker, and to the Deputy Dean of Research, Professor Simon Bronitt, for their strong support and help with this application. Both provided timely and detailed high-quality references, and much encouragement along the way.