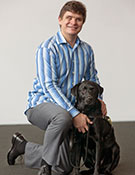 The TC Beirne School of Law's Dr Paul Harpur has been awarded two international visiting fellowships this year to assist his research on human rights for people with print disabilities:
International Visiting Fellow, Centre for Disability Law and Policy, Institute for Lifecourse & Society, National University of Ireland, Galway.
Distinguished International Visiting Fellow, Burton Blatt Institute, College of Law, Syracuse University, New York.
A former paralympian and practicing lawyer, Dr Harpur is totally blind.   His research and teaching expertise are in the areas of disability rights, anti-discrimination laws, work health and safety laws and corporate social responsibility.
Dr Harpur is analysing the laws and institutions that impact upon equality for the disabled, in particular those with print disabilities including blindness, low vision, mobility impairments and dyslexia. This includes their capacity to exercise rights protected by the United Nations Convention on the Rights of Persons with Disabilities. 
Dr Harpur said depending on where they lived, people with print disabilities could only access between seven percent and less than one percent of the world's 130 million titles.
"Standard paper books require scanning and alteration to enable those with print disabilities to access them," he said.
"This is an expensive and time-consuming process for the 17 million print disabled in the US and even more difficult for the estimated 300 million print disabled in less wealthy countries.
"Unlike books printed on paper, e-books have the capacity to solve the book famine. As the numbers of commercially available e-books grows, the dream of universal access could be a reality."
Cambridge University Press has contracted Dr Harpur to write a book: Disability Human Rights: Opening the Book for Print Disabled. 
"Historically, laws and institutions constructed disability access as an exception which was partially tolerated," Dr Harpur said.
"A new disability human rights paradigm has emerged which is placing human rights over copyright interests. The new disability human rights agenda is connected with a range of legal and policy developments at the international and national levels."