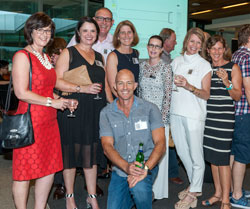 Five generations of UQ law cohorts came together at the TC Beirne School of Law  class reunions on Saturday 28 November.
Hosted by Head of School and Dean of Law, Professor Sarah Derrington , the reunions of the classes of 1975, 1980, 1985, 1990 and 1995 were attended by over 100 alumni.
Notable attendees included the Director of F A Pidgeon and Son, Allan Pidgeon; barristers John McKenna QC and Christopher Hughes QC; Chairman of the Board of Xlam New Zealand and Hyne Timber, Martin Kriewaldt; Dean of the Faculty of Law at Monash University, Bryan Horrigan; Federal Court of Australia Justice Berna Collier and Federal Circuit Court of Australia Judge Michael Burnett.
Professor Derrington said the reunions welcomed alumni from as far afield as Hong Kong, Singapore and Darwin.
"We were delighted so many of our alumni made a special journey to UQ to reunite with old friends and colleagues," she said.
"A highlight was hearing from alumni who have been instrumental in creating change in the legal and business fields."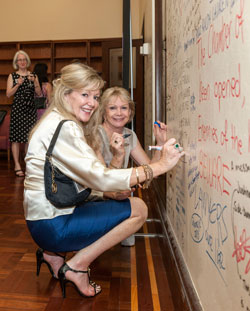 Alumni were invited to sign the wall in the Sir Samuel Griffiths Room as a symbolic farewell before the school's interior refurbishment and refocus begins in January.
Professor Derrington said the event was an opportunity to reflect on the rich history of the law school and look towards the future.
"As a member of the class of 1990, I understand the strong ties our alumni have to the school and the university," she said.
"This is why we wanted our alumni to be among the first to know about our vision for the future.
"The TCB School of Law has consistently produced high-calibre law graduates since we welcomed our first students in 1936, and the changes we are making will ensure this proud tradition continues.
"Our alumni were very receptive of our vision and I look forward to their continued support."
UQ Law Society President Georgina Morgan also spoke at the reunion and expressed her gratitude to the law school.
"I'm so proud to be a representative of this school," she said.
"Many law schools in Australia teach in classrooms and lecture halls that are crying out for refurbishment.
"TCB, however, is providing us with brand new facilities and has listened to the concerns of students about increasing study space."
The school encourages all law alumni to stay connected. Update your contact details online now to receive information on the latest news and events.