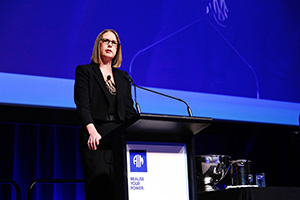 The AIM International Women's Day Debate took place in Brisbane for the 18th time on Friday 6th March. Two talented teams of well known businesswomen and media identities, including Professor Sarah Derrington, Dean of Law, UQ TC Beirne School of Law, battled it out over the topic of "Do women need to make hard choices to get ahead?"
The debate took place in front of a sold out crowd of 1600 people at the Brisbane Convention Centre and was a fantastically fun event for everyone involved.
The event raised $52 600, with a sixth going to Professor Derrington's chosen cause, Women's Legal Service.