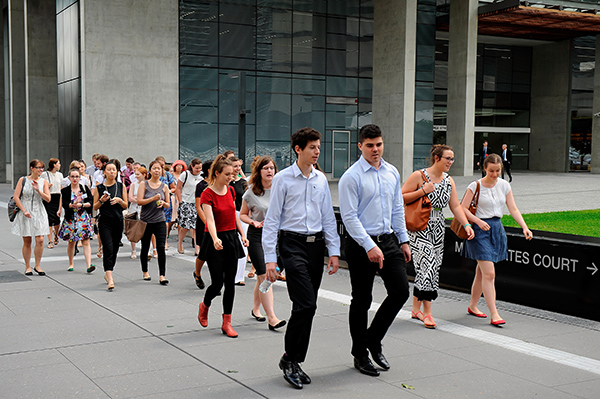 The University of Queensland Class of 2015 commencing law students were given the opportunity to be welcomed by the legal profession with an immersion day at the Supreme Law Courts. This new initiative for first year law students was organised in conjunction with the UQ Law Graduates Association (UQLGA) and the TC Beirne School of Law.
The day, held during O-Week, included an introduction from the President of the UQLGA, Mr John McKenna QC on the Queensland Legal System in the Queensland Supreme Court Library. Students were then guided around through the Law Courts and listened to presentations by sitting Judges and the Director of Public Prosecutions. Students also observed an trial in a working courtroom, after being briefed on the facts in issue in the trial by SCLQ student guides, many of them UQ law alumnus.
The day continued with a visit to barristers' chambers where, in small groups, the students met with a barrister to hear about the role of the Barwithin the profession. The final element of the day was an informal presentation from a solicitor, giving an overview of private practice as a criminal law solicitor.
Professor Sarah Derrington, Dean of Law, said, "It was an outstanding example of the School's engagement with the wider profession and has given the students a glimpse into the profession for which they aspire."
The students also appreciated the day, with all who were surveyed stating they would highly recommend the day to future law students.