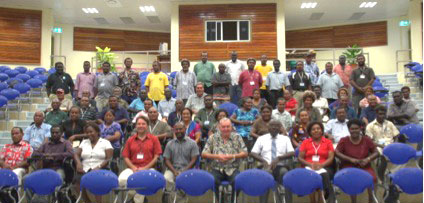 The University of Queensland has had a long association with the Solomon Islands Government, fostered by the UQ Solomon Islands Partnership (UQSIP) at UQ, which is convened by Professor Jennifer Corrin (Director of the Centre for Public, International and Comparative Law at the TC Beirne School of Law) and Professor Clive Moore (McCaughey Chair in History). With the establishment in 2013 of the Solomon Islands National University (SINU), an even closer association was developed through the conclusion of a Memorandum of Understanding between SINU and UQ.
SINU's strengths are in Education, Business and Management, Natural Resources and Nursing. However, with its origins in the long-established Solomon Islands College of Higher Education, academic staff had a vocational orientation which required some reorientation given its new status as a university. In that context, SINU Vice Chancellor Dr Glynn Galo requested assistance from UQ in developing research capacity among his existing staff and identifying processes and training staff for research leadership transitions.
In December 2014, a UQ team consisting of Professor Clive Moore, School of History, Philosophy, Religion and Classics, Professor Craig Forrest, Fellow of the Centre for Public, International and Comparative Law at the TC Beirne School of Law and Dr Patrick Pikacha, School of Civil Engineering, conducted a four day research capacity building workshop. This workshop was a UQSIP activity, facilitiated by Professors Jennifer Corrin and Clive Moore, and Associate Professor Ian Tibbetts. Over the four days, all SINU academic staff attended a series of seminars, and then, with the assistance of the UQ facilitators, completed a number of research proposal that would allow staff to establish a viable long-term research agenda.